Algorand Price Doubles in Two Days as Ethereum Rivals Ascend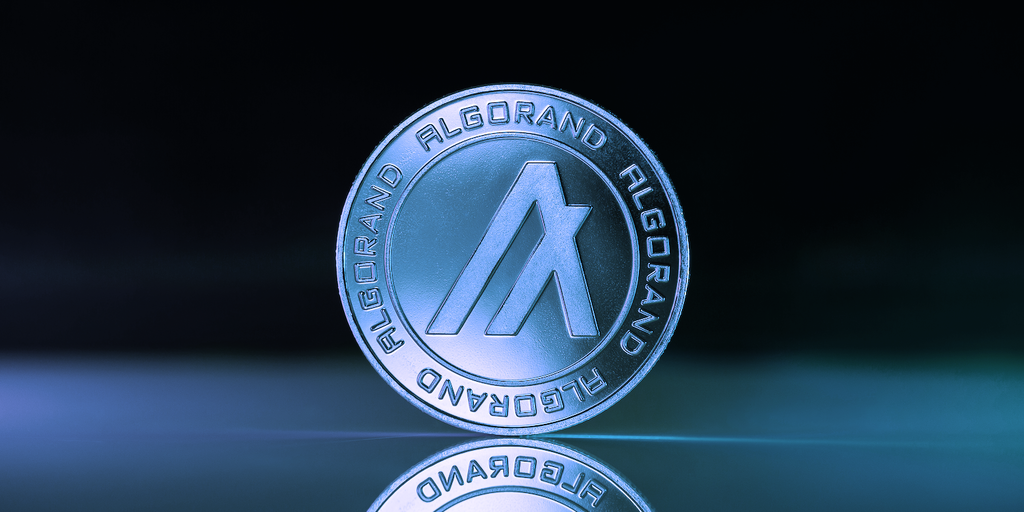 There's no shortage of smart contract blockchains aiming to knock Ethereum off of its pedestal as the leading network for dapps, DeFi, and NFTs.
Algorand is one of them, and now its native ALGO cryptocurrency is in the midst of an almost Solana-like price surge.
ALGO reached a high of $2.44 per coin today, according to CoinGecko—a rapid increase from the $1.20 price point seen on Tuesday during a market-wide morning flash crash. Currently, the price is slightly off that mark at $2.30 per coin. As of this writing, Algorand is up 98% on the week and 168% over the last 30 days.
Algorand's price hasn't been this high since the coin was first launched in June 2019. CoinGecko's data shows an all-time high of $3.56 from that time, but the coin rapidly fell below the $2 level and remained there until yesterday. It has jumped 35% over the last 24 hours alone, as of this writing.
Launched in 2019, Algorand is a blockchain platform that uses an energy-efficient proof-of-stake model—akin to Solana and the upcoming Ethereum 2.0 launch.
It's designed to be a fast, scalable system for decentralized applications and DeFi protocols—the kind that enable users to trade, borrow, and lend crypto assets without third-party intermediaries. At its peak price today, Algorand reached the 12th spot on CoinGecko's ranking of the largest cryptocurrencies by market cap.
There are a few recent factors that may explain Algorand's recent surge. On August 31, financial services firm Koibanx announced that it had signed an agreement with the government of El Salvador to develop the Latin American country's blockchain infrastructure on Algorand.
El Salvador is working with @koibanx to leverage #Algorand for government blockchain infrastructure. Felicidades to the Koibanx team on their continued progress in #LatAm!

https://t.co/4G1162TF1D pic.twitter.com/yPrHhcmJBd

— Algorand (@Algorand) August 31, 2021
El Salvador adopted leading cryptocurrency Bitcoin as legal tender this week, albeit not without technical hiccups along with resistance from some Salvadorans. Additionally, Koibanx will use Algorand for further blockchain-based infrastructure and services, such as a COVID-19 tracking system as well as financial services platforms.
Rival blockchain platform Solana could also be a factor here. Over the last month, Solana's SOL cryptocurrency has jumped from a price of about $37 per coin to a peak of $213 yesterday.
Solana is seen as a key competitor to Ethereum, thanks to its low fees and ability to handle a much larger amount of transactions at any given time, and both NFTs and DeFi are growing on Solana. Algorand is another alternative to Ethereum and Solana—and it's one with a lower-priced coin and smaller market cap, potentially suggesting to investors that it has more room to grow. Investors who missed out on Solana's recent surge might hope for similar gains with Algorand.
Algorand's DeFi usage has indeed grown of late, with about $90 million in total value locked within DeFi smart contracts on the platform, per data from DeFi Llama. In terms of the amount of ALGO locked in those protocols, it's a 53% increase over the last month. Even so, it pales in comparison to the amount of DeFi activity on other platforms: Ethereum has $125 billion worth of assets locked up in DeFi protocols, while Solana sits at nearly $8.6 billion.
However, there hasn't been much buzz around NFTs on Algorand yet. An NFT acts like a deed of ownership to a digital item, including images, video clips, and more, and most of the current NFT ecosystem lives on Ethereum. Solana is starting to make waves in the NFT space, however, with popular collections like Degenerate Ape Academy and Aurory popping up in recent weeks and generating tens of millions of dollars in transaction value.
Even comedian Steve Harvey has a Solana NFT as his Twitter profile picture. Given the immense gas fees (transaction costs) of trading NFTs on Ethereum right now, we could see a push for NFTs on a wider array of rival platforms. Algorand hasn't seen anything like that yet, but the success of Solana's early NFT collections could provide a potential template ahead.
"The Algorand ecosystem has experienced significant growth this year in NFTs, DeFi, and beyond," Algorand Foundation Head of Marketing Stephen Duignan told Decrypt via email. 
Duignan said that over $500 million entered the Algorand ecosystem in the first half of the year, including a $100 million fund from Arrington Capital, as well as the Algorand Foundation's grants program. "As we look ahead, there will be increased adoption of Algorand-based DeFi applications and decentralized governance that will continue this momentum," he added.
The views and opinions expressed by the author are for informational purposes only and do not constitute financial, investment, or other advice.
9 September 2021 22:41