Africa's Top Crypto Artist, Featured at Christie's, Launches a Social Token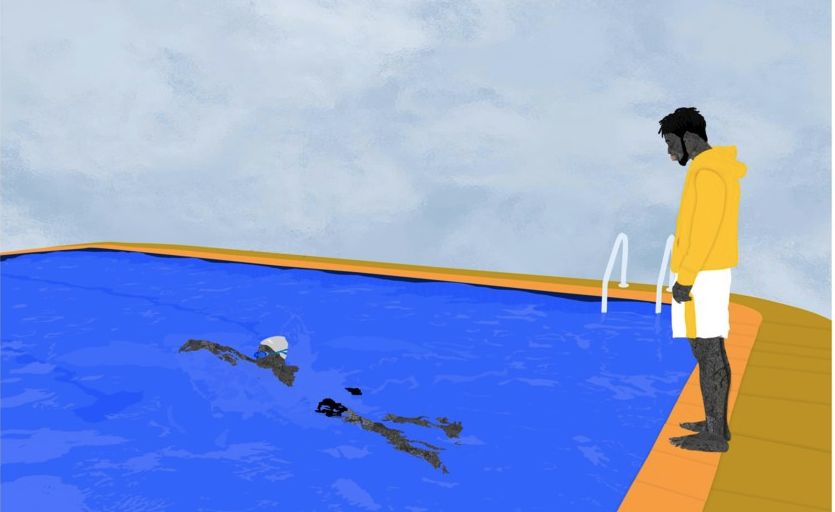 Africa's best-known digital artist Osinachi—who uses Microsoft Word as his canvas— first got his hands on a computer when he was 16 years old.
He was born in 1991 in Ada, Nigeria, a modest city of 2.5 million at a time when most people there couldn't afford a home computer. Instead, his father, an importer, would frequent a local cybercafe, where he rented time on a PC.
"My father was drawn to the computer because he's a businessman who had to write tons of letters to his business partners," Osinachi said. "The emergence of cyber cafes in Nigeria at a time when it was super expensive to own a desktop computer was really a good thing for him. He dived in—and took me along."
That turned out to be auspicious. Osinachi got to fool around on the computer too, and taught himself how to use Word—not to write letters, but to create art. Since October 5, Christie's Europe has been auctioning off some of Osinachi's Word-created NFTs, making him the first African NFT artist to be so honored.
Today, social token platform Socialstack is launching a new social token platform, CommunityOS, to help expand awareness around the project and build a community for fans of Osinachi.
Osinachi is kicking down the door for African artists to enter the NFT auction market. The exhibit, "Different Shades of Water," features five of the artists' images in homage to the 1972 David Hockney painting "Pool with Two Figures." Osinachi says it's "my own way of condensing my experience, not just as a Black person, but also as a Nigerian, and more specifically, as a person."
Positive impact
Osinachi is also chief creative officer of Socialstack, which launched in February and is aimed at doing good globally. The tools unveiled today are part of a suite that offers "plug & play functionality to power tokenized communities."
Andrew Berkowitz, co-founder and CEO of Socialstack, said attendees would be able to earn Osinachi's social tokens by taking a picture in front of the Osinachi art pieces and sharing it on Twitter.
"Anyone at the events that does that will earn some of Osinachi's social tokens, OSINA," said Berkowitz. "It's a way to incentivize social sharing for people while they're at the events, with a token reward." Guests attending the auction can also enhance their experience via augmented reality by scanning QR codes placed throughout the auction house.
Osinachi said he got involved with Socialstack at the start of the year after meeting Berkowitz and being impressed by his vision of using social tokens to do good,  rather than just make money. "Positive impact is something I love being a part of," Osinachi said. "Whether rallying crypto art community members to pay attention to what is happening in my part of the world, or donating part of proceeds of the sale of my work to charity."
We're turning London into a Cryptoart capital!

If you're in London catch the exhibition of my series "Different Shades of Water" at @154artfair

Auction for the 5 pieces in the series is on @ChristiesInc and runs through Oct 19.https://t.co/SG6Cm4UBJl

Cc: @FinancialTimes pic.twitter.com/AkZb82coin

— Osinachi (@osinachiart) October 8, 2021
A new asset class for creators
Social tokens have slowly been building momentum as a way for creators and artists to monetize their work, likeness, and name. Berkowitz sees them as "a new cryptocurrency asset class that came into existence over the past couple of years. It's cryptocurrency whose value is tied to the underlying brand or community that's issuing the token, as opposed to other crypto assets where the value is derived from the underlying network itself."
Socialstack says it launched its social tokens on Ethereum and Celo and made the CommunityOS on Polygon. Berkowitz believes that leveraging a token reward to incentivize behavior will set an exciting precedent for in-person events, from liking and sharing on social media to buying merch.
"This is a kind of a new asset class for the creator economy, for impact organizations or nonprofits that want to launch a token," Berkowitz said. "But it's not about the tech, it's about the community itself."
Christie's in collaboration with @154artfair presents an auction of @osinachiart NFT series 'Different Shades of Water'. The online NFT auction will mark the first #NFT by a contemporary African artist offered by Christie's in Europe and is the first NFT collaboration for 1-54. pic.twitter.com/BN1fACjpZD

— Christie's (@ChristiesInc) September 30, 2021
Word
Born Prince Jacon Osinachi Igwe, the artist is entirely self-taught and prefers to use Microsoft Word instead of Adobe or the high-end design tools favored by other digital artists. He even sees something decentralized and democratic about the program.
"It's not difficult for me to create art on Microsoft Word," he said. "I mean, over time I have perfected my practice in such a way that it comes naturally to me to use Word as my canvas." His collection for auction was created with the word-processing software.
He said he minted his first NFT in 2018 thinking that it might help him build an audience beyond Instagram. The art world took notice, and he was a finalist for the Bridgeman Studio Award in 2019.
"Nobody thought that NFTs could sell for so much until Beeple did it," Osinachi said. "My auction at Christie's shows that African artists can excel in the space beyond platforms and go on to auction houses."
14 October 2021 13:01