Bored Ape Yacht Club Sells $96 Million of NFTs in Hour for Mutant Apes Launch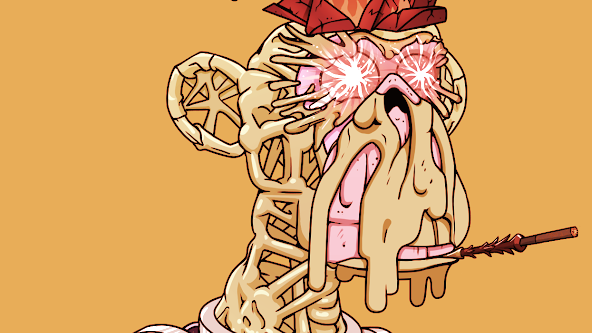 NFT project Bored Ape Yacht Club raised $96 million in a public sale of 10,000 Mutant Apes in a single hour on Saturday night, and airdropped a further 10,000 vials of mutant serum that let existing holders of the Ethereum-based NFT mint new apes for free.
Launched in April 2021, Bored Ape Yacht Club originally comprised 10,000 randomly generated NFTs. Each comes with different characteristics—for instance, some wear tweed suits while others smoke. The project is similar to CryptoPunks, whose 10,000 computer-generated avatars look similarly vacant and are even more expensive.
I continue to be MASSIVELY impressed by @BoredApeYC #BAYC #MAYC pic.twitter.com/tXo3EYdgFv

— AlexisOhanian 7⃣7⃣6⃣ (@alexisohanian) August 29, 2021
Holders of Bored Ape tokens were airdropped one of three serums: M1, M2, or Mega Mutant (M3). If a Bored Ape is injected with an M1 or M2 serum, the resulting Mutant Ape retains traits of the original ape. The M3 serum creates a completely different ape, with potentially rarer—and therefore more valuable—traits.
The airdrop was a great deal for Bored Ape holders, since they could keep their original NFT while minting a valuable extra token.
Mutation.. DONE! M1 & M2 @BoredApeYC #mutated #merch #bayc #apefollowape pic.twitter.com/BIgmzXr1C2

— SWΞΞTTOOTH. (@sweettoothnft) August 29, 2021
The Mutant Apes, claimed either for free by the holders or bought for 3 ETH in the public sale, now sell for a minimum of 7 ETH ($22,400) each. The Mutant Apes have generated about $88.4 million in trading volume since they launched, according to data from NFT marketplace OpenSea.
So I got this halo, laser eyed, smoking mutant ape tonight. I have no idea where it fit's in but it was free so I am channelling gratitude. Thanks, this has been one of my best NFT days #nftcollector #nftcollectables #apefollowape pic.twitter.com/kVIs67wtAx

— cananapo (@mgmm) August 29, 2021
Like most NFTs, you can't do a whole lot with a Bored Ape. Their owners, among them, as of yesterday, NBA star Stephen Curry, often use them as profile pictures to signal their wealth. Curry bought his ape for $180,000.
Bored Apes are the fifth-most successful crypto-collectible project of all time; according to data from CryptoSlam, the apes have generated $354 million in sales. The asking price for the cheapest (non-mutant) Bored Ape is 25 ETH ($80,000).
Earlier this month, Bored Ape holders were airdropped a companion dog NFT from the Bored Ape Kennel Club collection. A bundle of a Bored Ape accompanied by its dogs sold for $1 million on August 10.
Only 8 of the Mega Mutant Serum! If you get this you life is changed forever pic.twitter.com/qGFMrSkAaR

— cr0ss.eth (@cr0ssETH) August 28, 2021
On September 2, auction house Sotheby's will auction off a collection of Bored Apes. While the auction will give the project significant public exposure, not everyone is happy with the sale:
"Why are we selling our JPEGs via Sotheby's and Christie's who take a 25% cut?" Meltem Demirörs tweeted last night. "We need to stop looking to old school institutions for validation."
29 August 2021 12:21