'City-Centric' Crypto MiamiCoin Nets $7.8 Million for City of Miami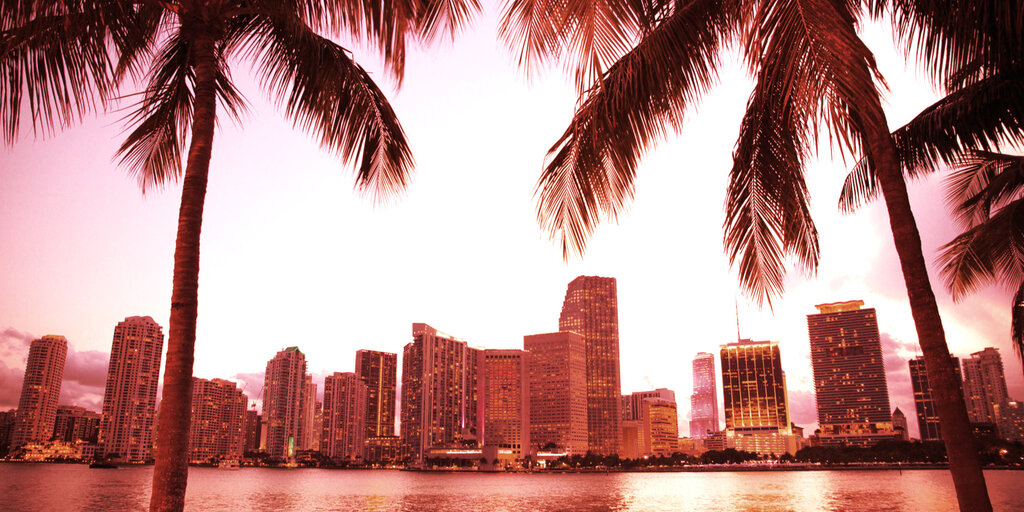 MiamiCoin (MIA), a "city-centric" cryptocurrency launched by CityCoins in early August, has already generated nearly $8 million for the City of Miami.
The current Miami City Wallet balance is valued at $7,861,590.09 (6,415,317.93 STX): https://t.co/Q3okJhAubi pic.twitter.com/ZaIhHYSwsm

— MiamiCoin City Wallet (@MiamiCoinWallet) October 1, 2021
CityCoins is a blockchain project that allows people to invest in cities by buying or mining their corresponding tokens. In return, users can earn yields in Bitcoin (BTC) or Stacks (STX) tokens.
"MiamiCoin provides an ongoing crypto revenue stream for the city, while also generating STX and BTC yield for $MIA holders," according to CityCoins' website. "30% of miners' forwarded STX is directed towards a wallet reserved for Miami, and the remaining 70% can be stacked to earn STX and BTC."
Miami's very own cryptocurrency was launched in early August and became CityCoins' first token of this kind. 
At the time of writing, the Miami City Wallet balance was valued at just over $7.86 million (6.415 million STX).
Miami's crypto push
MiamiCoin is a close fit for the crypto ambitions of Miami's mayor, Francis Suarez, who wants to turn the city into a "cryptocurrency innovation hub." Prior to MIA's launch, he noted that "the City of Miami could end up earning millions of dollars as a result of the popularity of MiamiCoin."
"It's like Bitcoin and it's on the blockchain protocol, so whenever that coin is mined, a percentage of the coin by virtue of the programing goes to the City of Miami," Suarez explained at the time.
On September 13, Miami's city commissioners agreed to accept donations in MIA, a vote described by CityCoins as a "major milestone" in a tweet.
Miami's recent vote to accept their protocol contributions is a major milestone — with so many people building with MIA and exploring ways to activate other cities, CityCoins can make history in more ways than one!

— CityCoins (@mineCityCoins) September 30, 2021
The project also revealed that 1,248 miners have already contributed their computing power to MiamiCoin since it was launched.
Speaking to The Washington Post, Suarez estimated that MiamiCoin can generate up to $60 million for the city over the next year and "revolutionize" the way local programs are funded, helping the city to alleviate poverty and other social issues.
"When you think about the possibility of being able to run a government without the citizens having to pay taxes, that's incredible," Suarez said.
He added that MiamiCoin also creates a "counternarrative" and has the potential to prove that city programs don't have to rely solely on taxes or "private sector philanthropy."
1 October 2021 11:05