Crypto.com's Sports Sponsorship Spree Continues With Esports Team Fnatic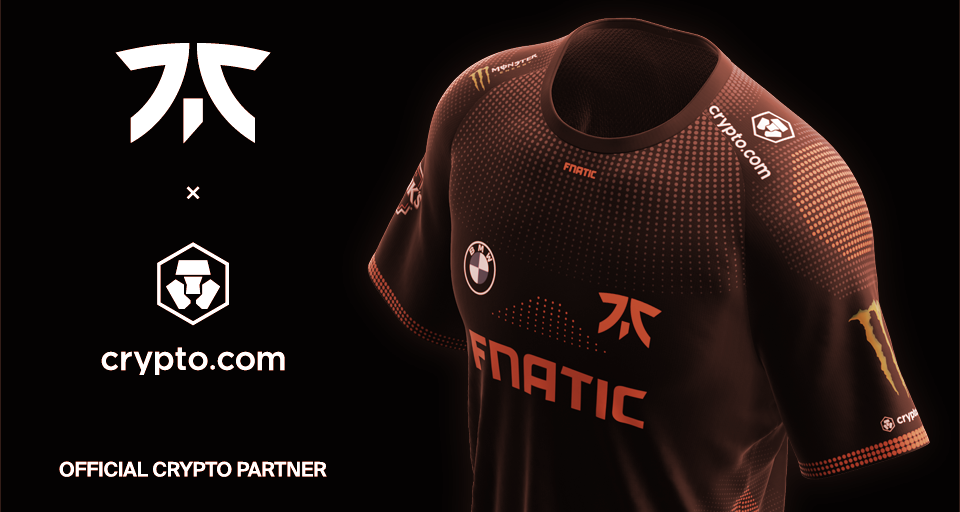 Crypto.com is the latest cryptocurrency exchange to try and tap into the engaged, tech-savvy audience of esports fans, today announcing that it has signed a sponsorship agreement with established team, Fnatic.
The five-year deal is worth more than $15 million in total and will make Crypto.com the team's "Global Cryptocurrency Partner." The London-based Fnatic is best known for its League of Legends European Championship (LEC) team, as well as successful squads that compete in games such as Counter-Strike: Global Offensive and Dota 2.
Crypto.com branding will appear on Fnatic team jerseys (as seen in the image above). The team will also offer unspecified rewards and exclusive opportunities to Crypto.com users, along with plans to launch Fnatic-branded NFT collectibles. Furthermore, the companies will collaborate on content initiatives, including those focused on cryptocurrency education and financial literacy.
Fnatic's deal comes after a number of recent partnerships between cryptocurrency exchanges and popular esports teams. FTX signed a 10-year, $210 million naming rights deal with TSM in June, while Coinbase aligned with Evil Geniuses and Uniswap sponsored Team Secret.
Furthermore, FTX has partnered with League of Legends developer Riot Games to sponsor its esports tournaments, with Coinbase sponsoring tournaments from organizer ESL.
Along with the stability provided by the five-year deal, Fnatic Partnerships Director George Mead told Decrypt that plans for branded digital products and Crypto.com's commitment to becoming carbon negative were key drivers in the partnership.
"The longevity and long-term approach from Crypto.com is great for Fnatic and the esports industry as a whole," said Mead. "They have partnered up with some of the biggest sporting brands in the world and we're over the moon to be their first partner in esports."
As Mead said, this is just the latest in a long line of sports industry sponsorship deals for Crypto.com. The exchange has also partnered with brands like Ultimate Fighting Championship, Formula One and F1 team Aston Martin Cognizant, the NHL's Montreal Canadiens, and soccer giant Paris Saint-Germain F.C.
The approach echoes that of FTX, which has likewise amassed an array of traditional sports sponsorship deals in recent months, including bringing in the NFL's Tom Brady and NBA's Stephen Curry as brand ambassadors. FTX's splashy sports spending may be helping to raise the exchange's profile in the crypto world, as data from ICO Analytics and SimilarWeb in July showed a surge of web traffic compared to sinking numbers at rival exchanges.
Will that strategy do the same for Crypto.com? The firm didn't provide specific details when asked about the impact of its sports sponsorships, with Crypto.com CEO Kris Marszalek only commenting, "We have been overwhelmed by how well all of our partnerships have been received by fans around the world."
SimilarWeb data suggests that Crypto.com hasn't seen anywhere as significant of a rise in web traffic as FTX.com in recent months. Even so, the exchange believes that the esports audience has a lot of potential value.
"We're well aware that the esports/gaming audience is tech-oriented with a favorable view of cryptocurrency," Marszalek told Decrypt. "Naturally, we are excited to find opportunities that allow us to create integrated partnerships with the best brands in this space. Furthermore, esports is quickly becoming one of the most popular forms of entertainment worldwide, making the space even more attractive to us."
16 September 2021 13:01