Figment CEO: Value of Staking is Built on Community, Not a 'One-Way Street'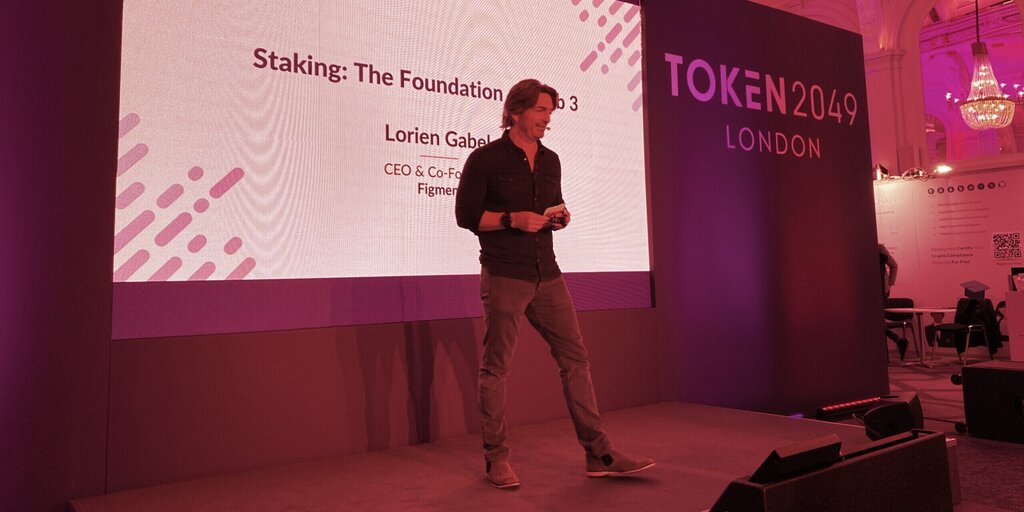 Proof-of-Stake (PoS) blockchains are set to become the underlying infrastructure of Web 3, Figment CEO Lorien Gabel argued at Token2049 today—and the value of staking tokens derives from the community participation that they enable.
"The way you think about community is, it's not a one-way street," said Gable. "To be in a community, you have to participate." Those who stake tokens to secure a Web 3 protocol, he argued, are "participating in this community. You're governing, you're running a node, you're securing the blockchain." 
To outside observers from the world of traditional finance, he said, "all of a sudden this token looks like maybe not just a speculative asset or a store of value; now it looks like something you can apply some traditional valuation frameworks to, like this is something that has value over time."
Institutional investors are eyeing staking as a growth area for the crypto market; a July 2021 report by investment bank JP Morgan argued that crypto staking makes the "crypto ecosystem more attractive as an asset class" and could provide a source of revenue for both retail and institutional investors.
Figment itself has reaped the rewards; the staking services provider raised $50 million in Series B funding this August, in a round led by Senator Investment Group and Liberty City Ventures, with participants including Galaxy Digital and Anchorage Digital. 
Blockchain's governance 'shitshow'
Gabel also stressed the importance of participating in governance for staking providers, to avoid becoming a commoditized service and running "extractive infrastructure."
"If you're looking at just a raw node service, yes, it probably becomes commodified," he said. "But if you care about all of these other things that I think are important for participating in these networks, there's a lot of value out there to be found.
Pointing to Figment's own governance research group, he explained that, "We have a team of 10+ people. We're embedded in these communities early, we participate in governance, at times we'll actually write proposals." 
Blockchain governance today, he conceded, is "kind of a shitshow," likening it to "a board meeting every day with 1,000 people around the world who don't know each other, maybe don't like each other." In the future, he said, "I think it's going to be determinative over the long term."
8 October 2021 13:16