Gary Vaynerchuk Hand-Drawn VeeFriends Doodles Sell For $1.26M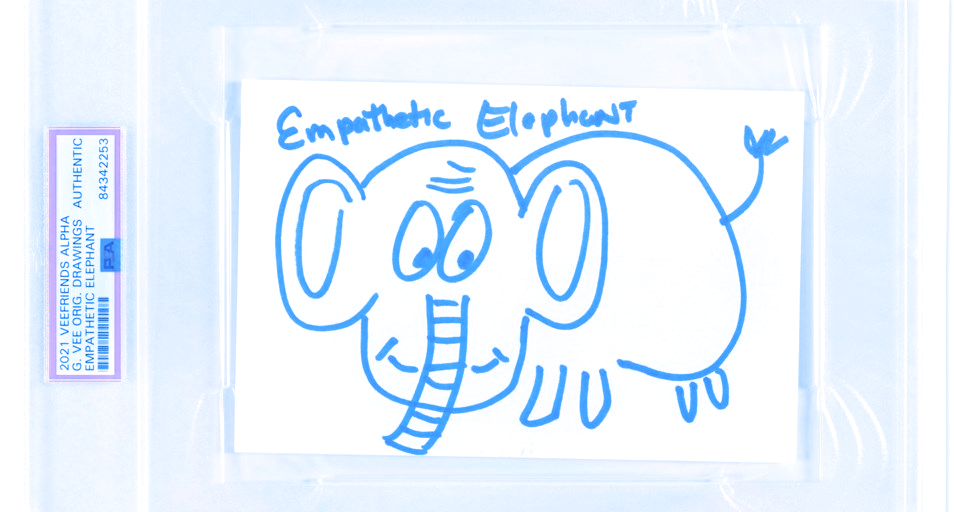 Gary Vaynerchuk sells scans of his doodles for up to a million dollars online. But yesterday, the workaholic investor, serial entrepreneur, and yard sale flipper proved that the paper drawings are still valuable in the digital age—he just sold five of them for $1.26 million, outselling Andy Warhol and Jackson Pollock at a Christie's auction in New York.
The lot of five hand-drawn VeeFriends pictures sold for more than six figures each. Up for sale were the "ink on paper" versions of Empathetic Elephant, Gratitude Gorilla, "Diamond Hands" Hen, "You're Gonna Die" Fly, and Tremendous Tiger. The Emphatic Elephant sold for the most: $412,500. The doodle took Vaynerchuck just minutes to draw.
90 minutes until the auction starts https://t.co/MKNsrcqqHw pic.twitter.com/KQFM0tWdip

— Gary Vaynerchuk (@garyvee) October 1, 2021
The five doodles are part of a 286-strong collection of animals hand-drawn by Vaynerchuck himself. Vaynerchuck turned his doodles into a collection of 10,255 NFTs called VeeFriends. Each animal carries an epithet: noble camels, glowing glow worms, benevolent barn owls, and so on.
The VeeFriends website says that the animals "represent human traits that Gary most admires. He focused on traits that he believes will lead to happiness and success." Aside from his entrepreneurship, Vaynerchuck is renowned for his motivational advice.
Someone's accomplishments aren't at the demise of another's .. the world is abundant.. perspectives need a tweak on the culture of "or" and "versus" ..

— Gary Vaynerchuk (@garyvee) October 1, 2021
The doodles may look infantile, but the floor price is 14.65 ETH, or about $50,100, and the most valuable VeeFriends NFT sold for almost $1.2 million on OpenSea. It depicts an "Alert Ape," and looks exactly like it sounds.
#0xa32 bought Alert Ape – VeeFriends by veefriends for $61.2K (~20.0 ETH)https://t.co/pqpaAYY1Zu pic.twitter.com/gEzU6kXWfE

— NFT Sniper (@nft_bot_sniper) September 26, 2021
Each NFT is accompanied by a 20-30 second video of Vaynerchuk thrashing out the doodle, and the NFTs doubles as a ticket to Vaynerchuck's upcoming conferences for the next three years.
Wait to they find out it's way bigger than the art and collectibles … the technology and behavior that nfts will create Ans what can and will be built is mind blowing

— Gary Vaynerchuk (@garyvee) October 1, 2021
On September 10, Vaynerchuck announced VeeCon 2022, the first of three planned annual events that will take place from May 19 through to May 22 in Minneapolis, Minnesota.
On Thursday, social media giant TikTok announced that it would release a collection of NFTs featuring Vaynerchuck on October 6. The collection, which will be hosted on Ethereum scaling solution Immutable X, and will also feature recording artist Lil Nas X, Grimes, and social media personality Bella Poarch.
.@tiktok_us is coming to Ethereum… WAGMI @Immutable X is thrilled to power the launch of TikTok Top Moments, its first creator-led NFT collection on Layer 2 with @StarkWareLtd.

Own a moment that broke the internet.

https://t.co/3HMESVJre3 pic.twitter.com/qYI3VO2JUk

— Immutable (@Immutable) September 30, 2021
2 October 2021 18:16