Médecins Sans Frontières Receives $3.5 Million ETH Donation From NFT Sale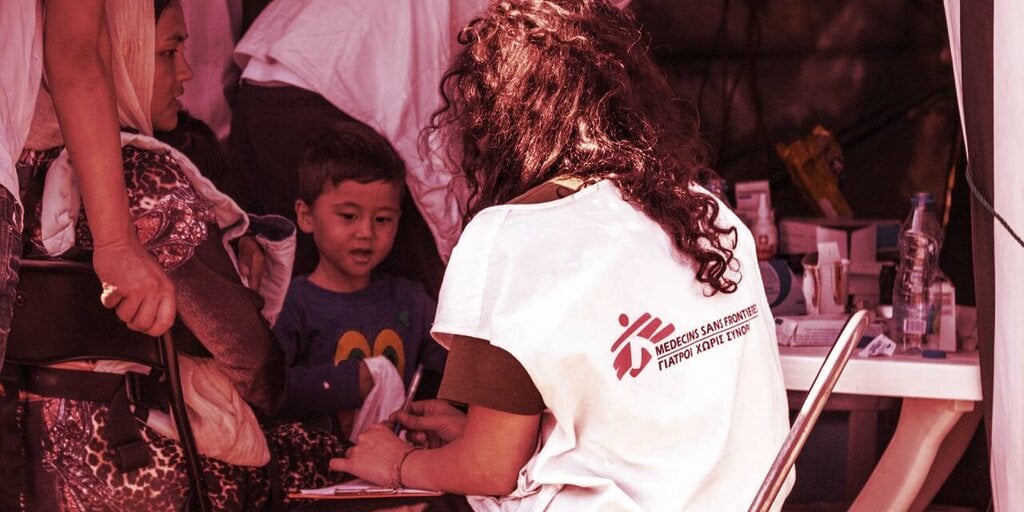 Médecins Sans Frontières (MSF), an international humanitarian organization offering medical help around the world, has received approximately $3.5 million worth of Ethereum as a donation—drawn from the proceeds of an NFT sale. 
The donor—who remains anonymous—is "supported" by the Generative Art and Art Blocks communities, which have sprung up around the work of non-fungible token (NFT) artists.
Per the MSF, the donation represented 25% of the sale of a series of artworks, and was processed to AUD upon receipt.  The donation was sent via The Giving Block, a platform that facilitates cryptocurrency donations. 
"We are grateful for the extraordinary generosity of the Generative Art and Art Blocks communities. This game-changing crypto donation comes at a time where the COVID-19 emergency has compounded the already urgent medical needs of people around the world," said Jennifer Tierney, MSF Australia executive director. 
Crazy News! The world's largest #Crypto donation from a #NFT project has just been given to @MSF

Received in #ETH via @TheGivingBlock to the tune of USD3.5 million

We can't thank the generous donor, the #generativeart & @artblocks_io community enough
#NFTart

— MSF Australia (@MSFAustralia) October 12, 2021
Crypto donations
The MSF—sometimes known via its English iteration "Doctors Without Borders"—has been in the business of receiving crypto donations in Australia since earlier this year.
"MSF Australia has been accepting cryptocurrency donations via The Giving Block since March 2021 and has received more than a dozen cryptocurrency donations this way," the MSF said in a prepared statement. 
What's more, donations like this—according to The Giving Block co-founder Pat Duffy—are a key to driving crypto adoption. 
"Donations like this are rocket fuel for taking crypto and NFTs mainstream. This is the type of transformational crypto philanthropy that gets the world embracing the technology," said Duffy.
How will this money be used? 
According to a prepared statement, MSF will use this money to continue providing medical assistance to those in need. 
"With this transformational contribution, MSF can continue to provide medical aid when and where it's needed most across our core work," the organization said. 
"From field hospitals to emergency projects, at the heart of MSF's work is a continued commitment to independence, neutrality, and impartiality. These values drive MSF's work in over 70 countries, providing medical care to those who have been deeply impacted by disasters, epidemics, conflict, and limited access to healthcare," MSF added. 
In addition, MSF will continue its work on women's health, neglected populations and the global migration and refugee crisis.
12 October 2021 11:43