Women-Led Professional Network Wants to Help Crypto Reconnect After COVID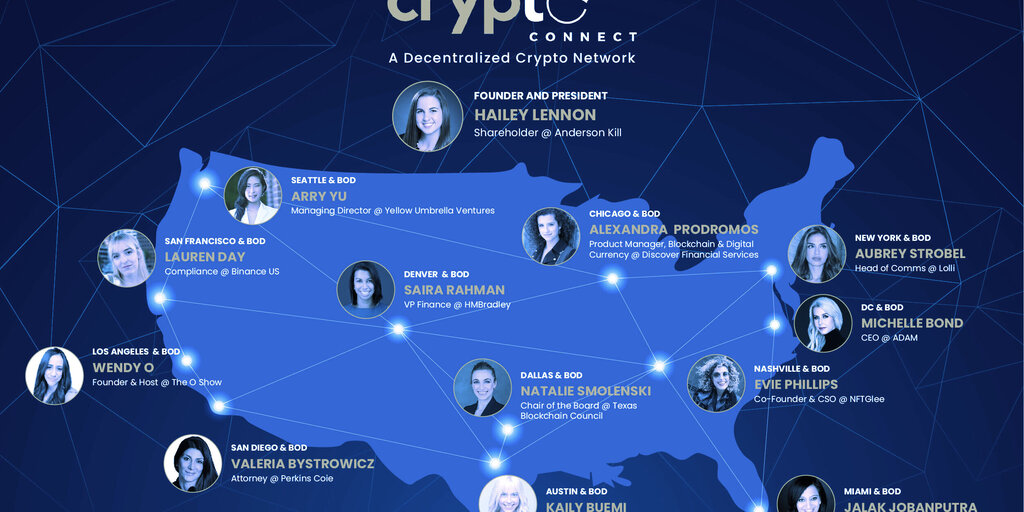 The cryptocurrency industry is almost custom-built to handle COVID: decentralized projects, distributed networks, remote-first companies, anonymous developers.
But the pandemic has really put a damper on getting together. 
A newly launched professional network aims to help people reconnect and thrive in the industry. And it just so happens to be led by 25 women.
Crypto Connect, a "decentralized organization," is launching today in 12 U.S. cities, with plans to quickly expand. Its chapter leads include Future Perfect Ventures founder Jalak Jobanputra in Miami; Aubrey Strobel, head of communications for Bitcoin rewards company Lolli, in New York; and Association for Digital Asset Markets CEO Michelle Bond in Washington, D.C. Board members include journalists Leigh Cuen and Naomi Brockwell, as well as Penn State law professor Tonya Evans. Podcaster Layah Heilpern and Chamber of Digital Commerce Chief Policy Officer Teana Baker-Taylor will help build out the group's international presence.
While the nonprofit is led by some of the most active women in the space, it's for everyone working within the crypto space. "The point of Crypto Connect is really to be a resource to connect successful individuals in the industry regardless of background, gender or anything like that," Crypto Connect founder and president Hailey Lennon told Decrypt.
Lennon, a partner at prominent crypto law firm Anderson Kill, said the organization was borne out of her own experience traveling during COVID—as government quarantines and corporate work-from-home policies combined to make hotel conferences and happy hours nearly obsolete. "I felt like my ability to ping into different communities and different cities as I traveled started to deteriorate and it made it harder to travel and network and continue getting to know people," she said.
Over the last several months, she's tapped her network to jumpstart the nonprofit, which promises both in-person meetups and online webinars and educational seminars. By joining the database, members will also have access to referrals and mentoring.
The group's representation is balanced, meaning just about anyone in the larger crypto community should be able to find resources via someone in a similar sector. There are lawyers and marketers, investors and engineers, journalists and academics. "Having the various backgrounds and expertise on the board allowed us to mobilize very quickly," said Lennon.
Membership is free and open to all within the industry. And, if men see the project's leadership and think, somehow, that it's not for them, Lennon assures them that's not the case. "I actually think that men and women benefit more from networking when gender isn't the issue or topic," she said, "but I also think it's important for women to see female-led initiatives and know that that's more than possible and should be more common."
28 September 2021 13:00