13 of the Biggest NFT Marketplaces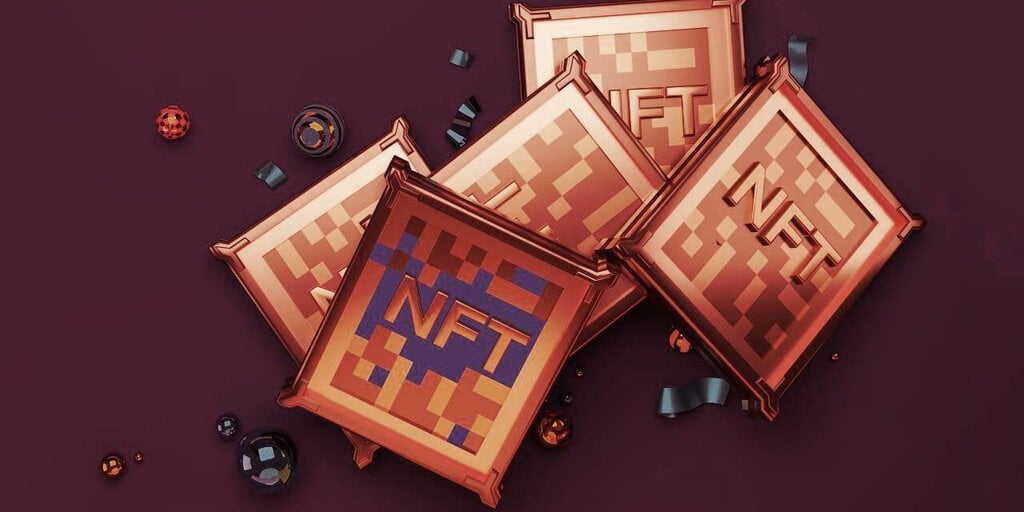 Non-fungible tokens (NFTs) have been around for a few years now, but 2021 was the year they exploded into the public consciousness.
The cryptographically unique tokens represent a title of ownership over digital content such as art, music or videos—but it's the digital art scene that lit a fire under the NFT market, with record-breaking sales such as Beeple's $69 million auction at Christie's grabbing headlines the world over.
Since then, enthusiasts have seized on one NFT craze after another, dropping thousands (and in some cases millions) of dollars on CryptoPunks, Bored Apes and Loot.
But where are people buying these NFTs, you might ask? A thriving virtual high street of NFT marketplaces has sprung up, selling digital art and collectibles at every conceivable price point. Here's a run-through of some of the leading platforms.
1.

OpenSea
OpenSea is the original peer-to-peer NFT marketplace, and far and away the largest. At the time of writing, it has a total trading volume of over $6.5 billion (according to analytics platform DappRadar), offering NFTs of everything from in-game items and collectibles, to artwork, music, GIFs, and more.
Signing up is as easy as connecting your MetaMask wallet, although other wallets including Coinbase Wallet, Bitski, Formatic and more are also supported.
Once you're connected, buying an NFT is a simple process; you need to browse through the various collections or searching for something that takes your fancy, before putting in an offer and seeing if it's accepted.
Uploading your own NFT creation is child's play, too. Simply head to the "Create" tab, connect your wallet as a creator and you can upload your NFT, fill out the description, and wait for the millions to roll in.
2.

Axie Marketplace
NFT-powered video game Axie Infinity plays host to the second-largest NFT marketplace, with a total trading volume of more than $2.1 billion on Dappradar. It trades exclusively in Axies: cute, Pokémon-like digital pets which players can buy and trade on the Axie Marketplace.
You can also create new Axies via the game's built-in breeding mechanics and sell them on the Marketplace. Unlike art NFTs, which are collected for collecting's sake, Axie Infinity's NFTs have a purpose: you can use them in-game to battle against monsters and other players, earning tokens that can be put towards breeding new creatures. So lucrative have Axie Infinity's NFTs proven, that some players in the Philippines and Indonesia are making a living through breeding and trading them. 
Axie Infinity is one of the most complex NFT services for new users to use, though, and you'll have to jump through a number of hoops before you can even begin to play the game.
Alongside an Ethereum wallet such as MetaMask, you'll also need to set up a Ronin wallet, deposit ETH to Ronin, and buy a minimum of three Axies from the Axie market (which will set you back several hundred dollars). That's not ideal for casual passersby, but it's not beyond the capabilities of a seasoned crypto user.
3.

CryptoPunks/Larva Labs
One of the earliest examples of NFTs on the Ethereum network, CryptoPunks is a series of 10,000 randomly generated characters with a pixel art aesthetic and unique attributes. While they could originally be grabbed for free, the only way you can own one today is to buy one.
That means heading to CryptoPunks creator Larva Labs' marketplace, where the majority of sales take place. And buying one costs a lot; currently, the lowest-priced Punk will set you back 94.99 ETH (around $285,000), while the most valuable one sold on the marketplace (number 3100), traded hands for an absolutely insane $7.58 million. That explains Larva Labs' all-time trading volume of $1.3 billion, then.
To get started, simply connect your MetaMask wallet, search through the list of available Punks (ones with red backgrounds are for sale), and enter your bid.
The hardest part of the process is convincing yourself to part with such a ludicrous amount of cash, but hey, that's on you. The value of art is in the beholder, after all.
4.

NBA Top Shot Marketplace
One of the first NFT series to gain traction with the wider public, NBA Top Shot is a set of digital trading cards featuring NBA video highlight clips. Once you purchase a pack, clips are stored in your secure, encrypted blockchain-verified wallet, where you can view them or re-sell them on the NBA Top Shot Marketplace.
The secret to NBA Top Shot's success is that creators Dapper Labs have made it simple for the mainstream user to get started. The easiest way to sign up for NBA Top Shot is to link your Google account to Dapper, after which you'll be asked to enter your phone number for SMS authentication.
Following that, there are a few account setup steps to go through, including selecting your favorite team. Once that's done you can join a drop on new packs, putting you into a virtual queue—after which you can grab a pack. After you verify via SMS (again), you can choose to pay with an existing crypto wallet, a Flow wallet, your Dapper balance, or, handily, a credit card.
5.

Rarible
One of the leading NFT marketplaces on Ethereum, Rarible is a community-owned platform that showcases a wide range of digital art and collectibles. It currently has the fifth-highest all-time trading volume according to Dappradar, with $210 million having changed hands.
Similar to OpenSea, you can buy and sell all sorts of media. Sellers also have the option to create more than one NFT for a single image, selling it more than once.
Rarible's user interface is simple enough for relative crypto novices to use; users who have dabbled in similar NFT marketplaces like OpenSea will easily feel right at home.
You can log in using a variety of different crypto wallets, including MetaMask, Coinbase Wallet, MyEtherWallet, or any mobile wallet using WalletConnect. Once signed in, you can use funds in your wallet to buy, or even top up your wallet with fiat currency via bank transfer or debit card.
6.

SuperRare
SuperRare positions itself as a slightly higher-end alternative to Rarible; where Rarible's interface bombards you with a dizzying array of flickering GIFs and live auctions, SuperRare has an altogether more pared-back, minimalist appearance.
It's also more heavily curated, billing itself as a social platform that aims to encourage the creation and collection of crypto art. It works closely with artists, requiring work to be submitted and approved before it's allowed to be listed; quality over quantity, in other words.
Signing up to SuperRare requires a supported wallet like MetaMask or Formatic. There's an extra step that involves creating a username and password that's linked to your wallet address, but it only takes a few seconds, so it won't be long before you're perusing the platform's selection of exclusive NFTs.
7.

KnownOrigin
KnownOrigin has a much smaller all-time trading volume—just $6.9 million—and, like SuperRare, aims to provide a more curated, gallery-like experience for the discerning NFT connoisseur. All of its artwork files are held on IPFS, which provides a measure of protection for the underlying assets. With a strong focus on digital art, this is a marketplace that shuns the crazier aspects of the NFT world, so you'll find no wacky avatars or cute monsters here. 

At the risk of sounding like a broken record, KnownOrigin is simple to use. All you have to do is connect a wallet like MetaMask or Formatic, and you'll be bidding on your own coveted NFT assets in no time.
8.

Foundation
Foundation currently has a total trading volume of just over $79 million, billing itself as a "creative playground" for artists. It's played host to a number of notable sales, including the NFT of iconic Internet meme Nyan Cat, Edward Snowden's first NFT and an audiovisual digital collectible created by producer Richard D. James, better known as Aphex Twin.

Once you've connected your MetaMask or other software wallet using WalletConnect, Foundation's marketplace is simple to operate, letting you place bids on timed auctions just like you would with a regular auction site.
9.

MakersPlace
MakersPlace is another boutique NFT marketplace that prides itself on hosting numerous exclusive collections of digital fine art. Its total volume might be on the lower end ($23.5 million at the time of writing), but it features plenty of one-off creations that add to its exclusivity.
In February 2021, the site memorably went down when iconic crypto artist Beeple offered a collection of NFTs for $1 a pop. It's also hosted a number of NFT drops by musicians, with the likes of T-Pain, Shakira and Rage Against the Machine's Tom Morello having signed up to the platform.
It's easy enough to sign up at MakersPlace as a buyer, and can even use your Google or Facebook account logins to save time.
You'll have to select five artists to follow as part of the registration process and can then purchase creations with either your MetaMask ETH balance, or (handily) your credit card. If you're a creator then you'll have to request an invitation to join the platform, filling out an online form for the curators' approval.
10.

Nifty Gateway

One of the first wave of big NFT marketplaces, Nifty Gateway has a powerful backer in the form of crypto exchange Gemini, which acquired the platform back in 2019. It proved to be a prescient move; amid the NFT boom, Nifty Gateway made headlines with one of the first multimillion-dollar NFT sales, brokering the sale of Beeple's CROSSROAD for $6.6 million in February 2021. By May, the platform had hit $300 million in gross merchandise value.
CROSSROAD
By @beeple

The #1/1 from beeple's first NG drop has just resold on the secondary market for $6.6 million.

History has just been made.

Congrats to beeple and of course to @pablorfraile for the sale. pic.twitter.com/mTYG4VABSw

— Nifty Gateway (@niftygateway) February 25, 2021
The platform offers a heavily curated selection of NFT drops, on a tri-weekly schedule, playing host to artists including The Weeknd, Grimes and Eminem. It also has a marketplace where you can browse curated collections, verified artists and a broader selection of work from unverified artists.
Getting started is a relatively streamlined process thanks to Nifty Gateway's close integration with Gemini. First up, you'll need to register for the site (and verify your identity using Stripe, if you're planning to sell NFTs). You'll need to load up your account with some funds, either by linking a credit card or by sending some ETH to a deposit address. Once that's done, you're then ready to buy NFTs from the marketplace.
You also have the option of linking your Gemini exchange account with your Nifty Gateway account, enabling you to use your Gemini exchange account balance for purchases and withdrawals (your Gemini account can be topped up using bank transfer, wire transfer, crypto deposits and trades).
11.

BakerySwap
BakerySwap is one of the smaller NFT marketplaces compared to the likes of OpenSea, but that's not entirely surprising; where most NFT marketplaces are built on Ethereum, BakerySwap is one of the first to be launched on Binance Smart Chain (BSC). The NFT marketplace makes up one section of the platform, which also allows users to trade and swap liquidity assets directly with each other. 

The NFT marketplace is straightforward enough, with the usual MetaMask connection required. Note that because this platform is run on the Binance Smart Chain, NFT assets can only be purchased with BNB, as opposed to the more common ETH.
12.

Binance NFT Marketplace
Binance NFT marketplace is, unsurprisingly, an NFT platform provided courtesy of the world's largest crypto exchange, Binance. The company aims to provide an NFT marketplace with exclusive offerings and partnerships, attracting the exchange's formidable user base to its NFT platform.

If you've already got a Binance account then you'll be pleased to hear it'll automatically work with Binance NFT. Once you're in, it's as easy as bidding on any assets that catch your eye. You can use ETH, BNB, and BUSD, depending on what the creators have listed.
13.

Solanart

The most recent NFT mini-boom has taken place on Solana, a rival blockchain to Ethereum. Collections such as Degenerate Ape Academy, Aurory and SolPunks have seen trading volumes of hundreds of millions of dollars, trading hands on marketplaces such as Solanart.

Unlike OpenSea, Solanart is a curated set of NFT collections, so offers a relatively limited selection of NFTs for purchase.
To get started with buying Solana NFTs on Solanart, you'll need to download a Solana wallet such as Phantom or Solflare, and load it up with Solana from your exchange of choice. Phantom offers a handy direct integration with crypto exchange FTX, which makes it a cinch to deposit funds from that exchange.
From there, it's just a matter of clicking through to your chosen NFT, connecting your Solana wallet to the marketplace, and placing your bid.
20 September 2021 18:32