Altcoins Moon, Bitcoin Stays on Earth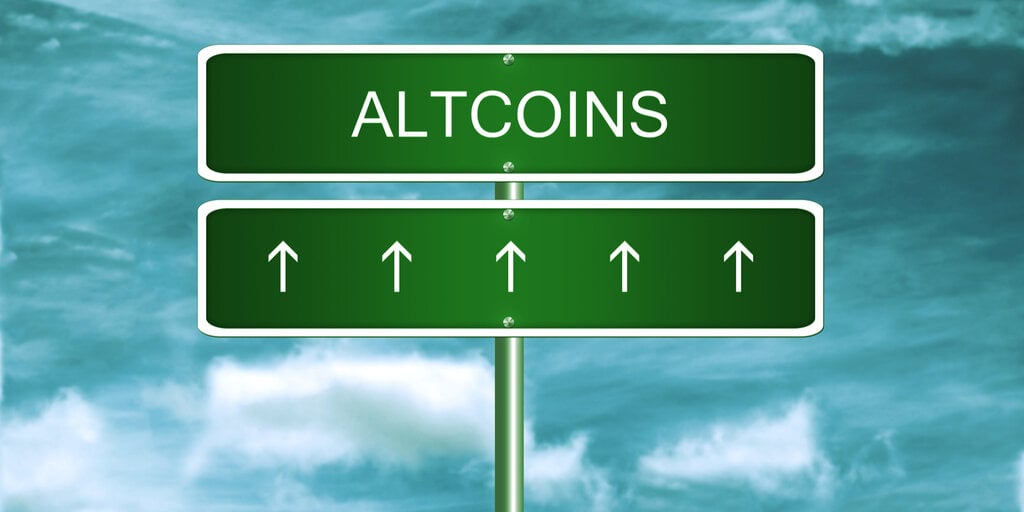 The crypto markets roared this week. Ethereum is up 20% over the last seven days, while the likes of Polkadot (DOT) and Chainlink (LINK) rose even more. Solana (SOL), this year's breakout cryptocurrency, finished the week up an eye-popping 60%. But some currencies barely budged—including Bitcoin.
As many of its rivals galloped to new heights, Bitcoin notched a ho-hum gain of 4% as it struggled to stay above the symbolic $50,000 mark, which it first smashed earlier this year. In a major development, so-called "Bitcoin dominance"—its share of the market compared to other cryptocurrencies—fell to around 40%, a far cry from the 71% dominance it enjoyed at the start of the year, and its lowest dominance since 2017.
What's going on here? Has Bitcoin lost its mojo, or is this just a temporary blip?
Looking back at 2017 might provide a clue. That year, you may recall, was when initial coin offerings (ICOs) were going gangbusters and the crypto world was frantically acquiring Ethereum to buy new tokens, and then flipping those tokens to buy yet more Ethereum. But then the ICO bubble popped, demand for Ethereum slumped, and many chucked their altcoins altogether and returned home to Bitcoin.
It's possible we're seeing the first stage of a similar cycle right now. As the Wall Street Journal noted in a piece this week on "Why Bitcoin's Price Got Stuck at $50,000," the recent pop in altcoins has been driven in part by the frenzy around NFTs, which are purchased primarily with Ethereum but can also be acquired with some other tokens like Solana. This means another collapse in the NFT market could trigger a hangover like the one that followed the ICO bust, and a flight back to Bitcoin.
There are other clues the altcoin surge might not be sustainable. These include a surge in the price of tokens like Cardano (now the No. 3 coin by market cap), which is riding a hype narrative that isn't yet matched by any increase in real world users, and in XRP and Litecoin, which are first generation crypto assets that have done little of late to justify a higher value. All of this prompted JPMorgan to pen a research note stating, "The share of altcoins looks rather elevated by historical standards and in our opinion it is more likely to be a reflection of froth and retail investor 'mania' rather than a reflection of a structural uptrend."
That's the bear case for altcoins: Their prices are inflated from a sugar high and, when a correction comes, Bitcoin will return to its long-time dominance. But I think something is different this time around.
While NFTs are helping to drive up the price of altcoins, the comparison to the ICO era only goes so far. In the 2017 bubble, speculators threw their money at hundreds of fly-by-night projects that didn't even exist yet (and in many cases still don't). This time, people are buying actual assets in the form of art, albums, sports collectibles and more. Yes, the price of many NFTs are being inflated by speculators, and the market could see a major correction, but it's also become clear that NFTs are more than just a lottery ticket—they are passports to large and growing communities that are poised to be around for years to come.
Meanwhile, the 2021 crypto boom is much broader than NFTs. It is also being driven by fast-evolving DeFi markets, stablecoins, DAOs, and a sprawling array of infrastructure projects that are transforming everything from finance to the Internet itself. The foundations of crypto are more solid than any prior period in crypto's history. That means the value of many tokens—especially the ones tied to "blue chip" projects—should hold.
So where does this leave Bitcoin? In 2017, we heard predictions of a "flippening," in which Ethereum would overtake Bitcoin. That flippening never happened back then, and it's unlikely to materialize now. Bitcoin is still the original cryptocurrency, battle-tested and owned by too many people to cede its place at the top. Its appeal as an investment to buy and hold (digital gold) is its main use case at this point. That said, the days when Bitcoin dominates 70% of the market and anything else is considered a lesser "altcoin" could be done for good. In fact, there's a good chance that by the end of 2023 crypto circles will have retired the moniker "altcoin" altogether.
This is Roberts on Crypto, a weekend column from Decrypt Editor-in-Chief Daniel Roberts and Decrypt Executive Editor Jeff John Roberts. Sign up for the Decrypt Debrief email newsletter to receive it in your inbox in the future. And read last weekend's column: If You Don't Buy This NFT, We'll Kill This Dog.
4 September 2021 15:06