CryptoPunks Zombie Sells for $3.9M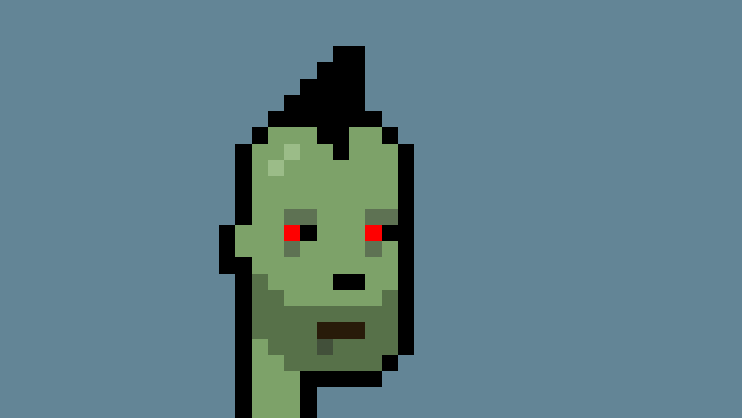 Earlier this week, CryptoPunks sales volume briefly fell, and the Punk boom looked like it could be over. Not so fast.
Today, a single CryptoPunk Zombie sold for $3.9 million to Pranksy, a prominent NFT collector.
This is the eighth highest sale for a CryptoPunk. The record for the highest sale sold on Larva Labs was set on March 11, when a Punk sold for 4.2k ETH, worth $7.58 million at the time. The most expensive sold for $11.8 million, but outside of the Larva Labs ecosystem.
The zombie that sold today is one of 88 Zombie Punks of the project's 10,000 avatars. The avatar is one of 526 to spot a "shadow beard" and only 428 others rock the same dark mohawk. 
The sale amounts to just under a third of CryptoPunk's daily trading volume, according to CryptoSlam, and one of only 14 that were bought today. Just one CryptoPunk has sold since: a male wearing small shades and a cap, for $371,495. 
However, sales for the Punks are dwindling. It is unclear whether that is because people are holding their CryptoPunks, which have since become a way to flex your wealth on social media sites such as Twitter, or if they are tiring of the avatars. 
Sales rose from $14 million on August 22 to $134 million on August 23, then dipped back down to $47 million on August 25. A second peak came on August 28, when trading volume increased to $195 million, the highest ever. Since then, sales have sunk to about $22 million a day, apart from a single spurt to $40 million on September 1. 
People are trading other different NFT projects instead. In the past week, Mutant Ape Yacht Club, a breeding project from The Bored Ape Yacht Club, has generated $220 million. Loot, a series of randomly generated pictures of text, has rustled up $173 million in trading volume. 
CryptoPunks, once the most popular project on the block, has been relegated to the fifth position on CryptoSlam's weekly sales leaderboard.
4 September 2021 16:29