Bitcoin Is Soaring on Rumors SEC Will Approve BTC ETF in Two Weeks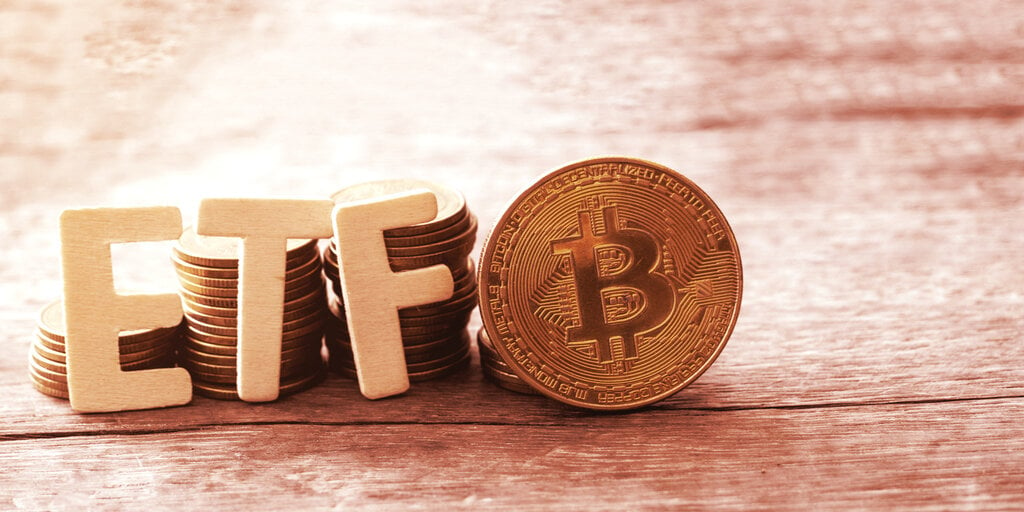 The price of Bitcoin is rocketing—and some are putting it down to an imminent Bitcoin ETF approval from the SEC. 
A Bitcoin ETF, or exchange-traded fund, is an investment product that allows investors to buy shares that represent a digital asset without having to actually deal with the cryptocurrency themselves. One doesn't yet exist in the U.S. because the SEC has repeatedly rejected applications for the product, citing concerns over price manipulation in the crypto market. 
The crypto industry has for years longed for a Bitcoin ETF to be approved in the U.S., and the expectation is that when one eventually does get the SEC's blessing it will lead to a rush of institutional money flowing into the crypto market, pushing the price of Bitcoin further upwards.
At the moment, at least 13 high-profile companies have applied to the SEC to launch a Bitcoin ETF and are currently awaiting an answer. And ETF experts say it is likely one will, at last, get approved on October 18. The ProShares Bitcoin Strategy ETF is the one currently slated for an October 18 deadline. 
There's just one catch: This means the SEC may approve a Bitcoin futures ETF, and not one that tracks the Bitcoin spot market. 
"The futures ETFs filed under the '40 Act (which Genz loves) are very much alive and likely on schedule (we think 75% chance approved in Oct)," said Bloomberg ETF analyst Eric Balchunas on Twitter, referring to SEC chairman Gary Gensler.
Yes, the SEC has kicked can on bitcoin ETF approval BUT that is for the physically-backed ones under '33 Act. The futures ETFs filed under the '40 Act (which Genz loves) are very much alive and likely on schedule (we think 75% chance approved in Oct). Here's our odds: https://t.co/cSZ8aDsITl pic.twitter.com/DUEvRANvO7

— Eric Balchunas (@EricBalchunas) October 2, 2021
A futures ETF would allow investors to buy shares that represent futures contracts (which bet on the price of Bitcoin going up and down), rather than the digital asset itself. Such a product has previously been criticized by those in the crypto sphere because they claim it is not what investors want. This is because, crypto purists say, it would be less liquid and more costly for both the issuers and investors, compared to a spot-based product. 
Though such talk of an approval appears to still be pushing up the price of Bitcoin. At the time of writing, the asset was up over 8% in the past 24 hours—and had touched $55,000 before dropping down again to $54,811. 
"If it passes, it will be a futures," ex-banker and crypto trader Alex Kruger told Decrypt. "It is not a rumour—some strongly believe it will be approved," he said.
Kruger added: "It would be a horrible product ironically: the SEC is still concerned about market manipulation and lack of agreements with exchanges to provide them with visibility. They have always been so, and that hasn't changed." 
This is what crypto markets are trading now. The dominant narrative is a bitcoin ETF. Dissapoint or not, can worry about that later. https://t.co/aIv3BFZqI4

— Alex Krüger (@krugermacro) October 6, 2021
According to market analysts, Bitcoin futures traders appear to be "front-running" what they expect will be a favorable announcement from the SEC regarding a Bitcoin futures ETF. Mike Bucella, general partner at crypto VC firm Blocktower, tweeted earlier today that he believes "folks are front-running a futures-based BTC ETF" based on current market activity.
CME Futures basis in BTC blew out over last 24 hours,

My guess,
1) Folks are front-running a futures-based BTC ETF
2) Short are getting margin-called,
And, likely both.

Allowing BTC to break from other risk-assets, driving the inflation/gold narrative at just the right moment.

— Mike Bucella (@MikeBucella) October 6, 2021
Much of the Bitcoin futures action in the U.S. occurs on the Chicago Mercantile Exchange (CME), which has experienced soaring interest in futures contracts as institutional investors show more interest in the cryptocurrency world. Today, trading volume for Bitcoin futures on CME rose by 7.49%, which may help explain why the price of Bitcoin jumped by 8%.
Whether this run will continue and the SEC really does green-light the first crypto ETF in the States is still anyone's guess. But we'll only need to wait 12 more days to find out.
The views and opinions expressed by the author are for informational purposes only and do not constitute financial, investment, or other advice.
6 October 2021 20:25