Bitcoin Tops $50,000 for First Time Since May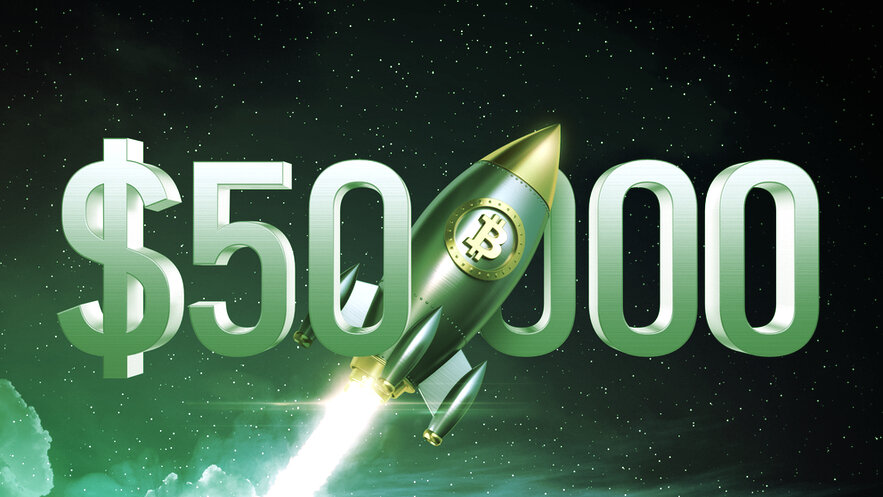 Bitcoin returned to the $50,000 mark on Sunday evening, a major price milestone as the crypto market continues to break out from its spring crash and subsequent summer slump.
The world's largest cryptocurrency by market cap just surpassed $50,000. At the time of writing, it's up 2.6% in the last 24 hours, 5.6% in the last week, and 55% in the past month, according to CoinGecko.
The last time Bitcoin saw $50,000 was in mid-May, just after Tesla CEO Elon Musk said his company would no longer accept Bitcoin as payment for its cars due to environmental concerns. That news along with a crackdown in China sent Bitcoin tumbling in the days and weeks that followed.
Musk's 180-degree turn stunned investors since Tesla had bought $1.5 billion worth of Bitcoin just three months earlier, and that purchase had boosted confidence among institutional and retail investors.
The damage was further exacerbated the following week when the Chinese government vowed to crack down on Bitcoin mining and trading—and later did.
The wider crypto market tends to tailgate Bitcoin's price movements, and all major cryptocurrencies began to plummet following the bad news.
Bitcoin lost more than half of its value, falling below $30,000 on multiple occasions over the past few months. But much of the loss has slowly been recouped, and the rest of the market has followed.
Like all round numbers with plenty of zeroes, many traders consider $50,000 a psychological marker of success. Breaching it paves the way to further neat numbers, like $55,000 or $60,000.
When the price first dropped below $50,000 on April 23, cryptocurrency exchange Kraken's trading team told Decrypt that they observed "significant" selling by Kraken traders. The drop coincided with President Biden's proposal for a U.S. capital gains tax hike.
"While it's tempting to look at the news cycle," Jonathon Miller, Kraken's managing director for Australia, said at the time, "it seems more probable that the technical and psychological importance of the $50,000 level is most relevant."
Is $100,000 next for Bitcoin?
The views and opinions expressed by the author are for informational purposes only and do not constitute financial, investment, or other advice.
23 August 2021 03:13