Ethereum Rival Solana Has Nearly Doubled in Price in One Week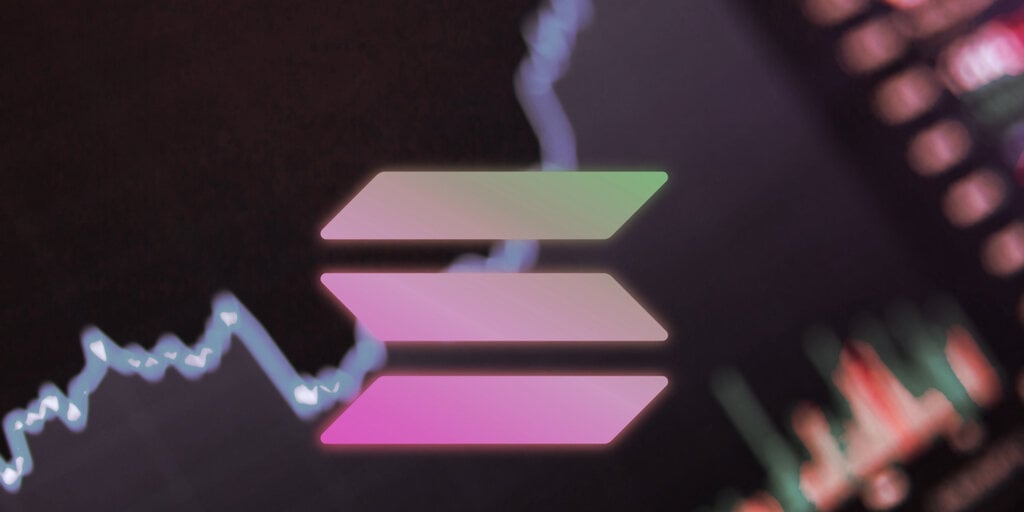 Solana's native SOL cryptocurrency continues soaring to new heights, as it set yet another all-time high price today. SOL set a new peak price of $79.57 this morning, according to data from CoinGecko, continuing a meteoric rise that has seen its price nearly double in a week.
The coin's price sat just under $40 one week ago, and rose up 96% to the new all-time high today. Prior to this week, SOL peaked above $56 in May before the wider cryptocurrency market spiraled downward. SOL hit a recent low below $24 less than a month ago, on July 20.
As the overall market has rebounded from the summer doldrums, so too has Solana—but it's seeing much larger gains than nearly any other crypto asset in the top 100 ranked by market cap. Only the AUDIO token from decentralized music service Audius has popped up higher in value over the last week, apparently linked to a partnership with TikTok announced this week.
Solana is a proof-of-stake blockchain that is positioned as a rival to Ethereum, the leading smart contract platform. Smart contracts are bits of code that perform set instructions, and they're at the heart of a wide array of decentralized applications (dapps), such as decentralized finance (peer-to-peer lending and trading) services and even NFT crypto collectibles.
While Ethereum is a more mature blockchain ecosystem and by far the most popular destination for dapps, Solana can handle a much higher volume of transactions than Ethereum can on its own—about 2,000 times more transactions per second.
Ethereum has layer-2 solutions (like Polygon) that work alongside the mainnet blockchain to handle more transactions, and Ethereum itself will transition to a more efficient proof-of-stake network model in the future. However, we're starting to see developers take advantage of the current benefits provided by Solana.
We sold out in 8 minutes. Holy Ape.

No the drop was NOT smooth. It was shitty at best. We did A LOT wrong and the team was overwhelmed with the wave that hit us in the past week. It was exponentially bigger than we thought. Please ape rage in the comments /1 pic.twitter.com/HCccxoSoQn

— Degenerate Ape Academy (@DegenApeAcademy) August 15, 2021
Earlier this week, SOL hit a previous all-time high above $63, apparently on the back of the launch of an NFT collection called Degenerate Ape Academy. An NFT acts like a receipt for a digital object, such as an image, video file, or video game item, and Ethereum-based profile picture collections like CryptoPunks and Bored Ape Yacht Club have seen surging demand in recent weeks.
The Degenerate Apes launch, which has yielded nearly $10.8 million worth of trading volume since launch according to the Solanart marketplace, suggests that Solana can also be a viable platform for in-demand NFTs. Prices for the collection now start at 7.3 SOL, or about $575.
Furthermore, Solana-based DeFi applications are catching on in a big way. Earlier this week, the amount of value locked in Solana DeFi contracts surpassed $2 billion, according to DeFiLlama—and that tally is now past $2.2 billion as of this writing, likely due in part to the rise in value for the SOL token. It's still a small fraction of the nearly $107 billion locked in Ethereum DeFi contracts, but Solana DeFi is still rising.
Amidst all of the action around Solana, the developers recently announced Solana Breakpoint, the first annual conference around the ecosystem. It will take place in Lisbon, Portugal on November 7-10, although the dates are subject to change due to COVID-19 restrictions.
The views and opinions expressed by the author are for informational purposes only and do not constitute financial, investment, or other advice.
18 August 2021 16:38