How To Buy Bitcoin With PayPal (2021 Update)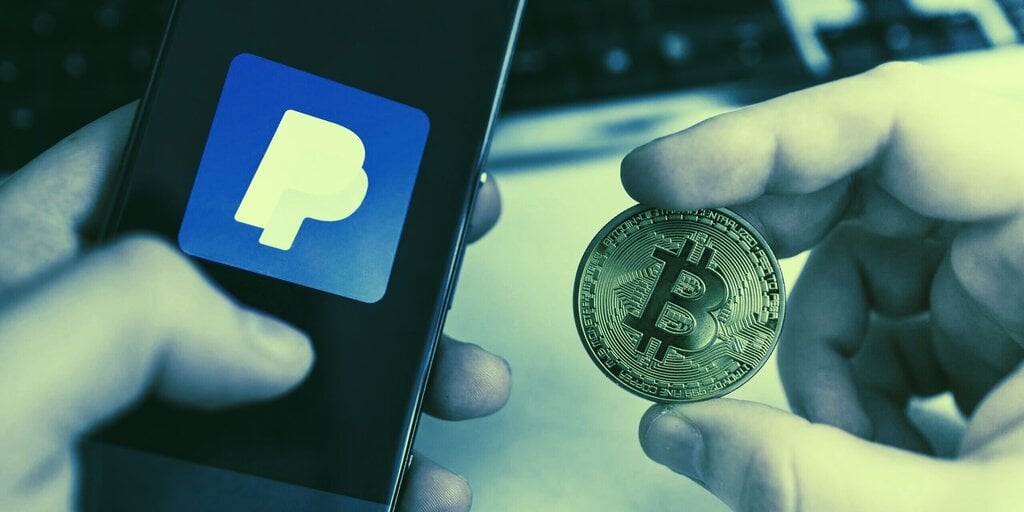 In November 2020, PayPal announced that all account holders in the U.S. would be able to buy and sell cryptocurrencies including Bitcoin through its platform. The news followed its announcement in October 2020 that it would introduce options for cryptocurrency buying and selling, through a partnership with Paxos Crypto Brokerage.
We are pleased to announce that starting today, all of our eligible US customers can now buy, hold and sell #Cryptocurrency directly from their PayPal accounts. We've also increased our weekly purchase limit to $20K. Learn more: https://t.co/5yrpNOuA6y pic.twitter.com/2nZHm9qCNI

— PayPal (@PayPal) November 12, 2020
PayPal allows purchases of Bitcoin, Ethereum, Bitcoin Cash and Litecoin within the PayPal digital wallet.
"We are pleased to announce that all eligible PayPal accountholders in the U.S. can now buy, hold and sell cryptocurrency directly with PayPal," the company said in a brief statement, which added that users in the United States will soon able to use cryptocurrencies to buy products from its 26 million merchants worldwide. Payments will be converted into fiat at the point of sale.
At the time, PayPal announced that crypto buying and selling features would be rolled out to "select international markets"; in August 2021, the UK became the first country outside the U.S. to allow PayPal customers to buy, sell and hold Bitcoin.
In April 2021, PayPal also added crypto buying features to its social payments service Venmo, with customers also gaining a "cash back to crypto" feature in August 2021.
Crypto buying is already proving a popular option among PayPal users, helping to propel the payments service to record numbers in the first quarter of 2021—so how do you get started?
How to buy Bitcoin using PayPal
First things first: You need a PayPal account, obviously. If you don't have one, you'll need to set one up with your credit card or bank account and an email address, at PayPal.com.
Now it's time to buy some BTC. The experience is broadly similar across the PayPal website and the PayPal app; for this walkthrough, we're using the website. On the home screen (the "Payments" screen in the app) select the "Buy Bitcoin and more" banner, displayed toward the top of the page.
Next, select the cryptocurrency you wish to buy. Currently, the options to buy and sell on PayPal are Bitcoin, Ethereum, Bitcoin Cash, or Litecoin. Additionally, PayPal has provided resources to learn about cryptocurrency; it also lists the risks involved.
You can select a preset amount of Bitcoin to purchase, or tap "Buy" to select an amount of your choice. The minimum users can buy is little as $1.00 worth of Bitcoin; the maximum is $100,000 a week. Below the purchase option, PayPal includes a brief description of the asset being purchased.
Before you can continue, you will need to confirm some information and agree to PayPal's Cryptocurrencies Terms and Conditions.
Next comes the fun part: buying Bitcoin. Enter the amount you'd like to buy (in this case, $10). A helpful note explains that the price of Bitcoin varies depending on when you pull the trigger: "Exchange rate includes a spread and refreshes frequently until you buy or sell." Select Next to move on to the next screen.
The bank account or credit/debit card your PayPal account is associated with appears. You can add other cards or bank accounts, at this point, too.
After selecting "Next," review your purchase. The transaction fees on PayPal are fairly reasonable for consumer-facing exchanges; the fees range from 50 cents for purchases under $25, to 1.5% of the transaction for purchases over $1,000. Select "Buy Now" when you're ready to purchase.
After the purchase is complete, the account will be updated to reflect the amount of crypto purchased and the current value.
Return to the home page and see your Bitcoin purchase under "crypto" with the option to buy and sell.
Cryptocurrency sold through the PayPal app or website will be converted into fiat and will show in the Cash Account balance section of the user's account. PayPal has included its fee chart and conversion spread for users to determine how much in fees they can potentially incur.
Buying Bitcoin on other sites using PayPal
When PayPal first announced its crypto offering, it restricted users to buying, selling and holding crypto. That left many Bitcoin advocates arguing that PayPal's crypto features were antithetical to the very ideals that underpin Bitcoin; namely, the idea that Bitcoin holders are their own bank.
PayPal has since softened its stance, announcing in May 2021 that it would add support for third-party wallets. That feature has yet to be implemented, however; for the time being, you can't transfer crypto out of PayPal's digital wallet, other than to make purchases (at which point it's converted into fiat at the point of sale).
At the moment, if you want to use PayPal to buy Bitcoin from other sources such as exchanges, in order to retain full ownership of your Bitcoin, your options are limited; relatively few sites support it as a payment method.
The main reason is that PayPal, like other credit companies, lets buyers request a chargeback in the event of a fraudulent transaction. That opens up the possibility of a buyer falsely disputing a transaction, getting their money back, and still receiving the Bitcoin they'd bought. Credit companies like PayPal typically side with the buyer in resolving a dispute, and because Bitcoin is pseudonymous, PayPal has no way to verify that the dispute is fraudulent.
Bitcoin transactions are also irreversible, meaning that in the event of a fraudulent dispute, the seller will likely be left out of pocket while the buyer pockets both the Bitcoin and the chargeback.
For those who want to buy Bitcoin using PayPal, but retain the freedom to move their crypto as they wish, there are some workarounds available. 
What platforms can be used to convert PayPal funds to Bitcoin
First up, you'll need a PayPal account (obviously). In most cases you'll also want to set up a wallet to receive your Bitcoin; these are software or hardware cryptocurrency wallets that can store public and private keys, allowing you to send and receive cryptocurrencies.
There are a few options you can choose when it comes to buying cryptocurrency with PayPal. 
Crypto exchange Coinbase announced in April 2021 that U.S. customers would be able to buy crypto using cards linked to PayPal. In order to use the feature, simply log in to Coinbase, select the cryptocurrency you want to purchase, tap "add payment option" within the Coinbase app and select PayPal. Once you've logged into PayPal, you can add a debit card or bank account linked to your PayPal account.
eToro also allows payment for Bitcoin using PayPal, and allows cryptocurrency to be transferred to an eToro wallet. Buying Bitcoin on eToro using PayPal is simply a matter of logging into your account, clicking on "Deposit Funds," selecting "PayPal" as your preferred payment method and choosing an amount. Once the funds have been deposited, you're free to buy Bitcoin.
xCoins is another exchange site; it started out as a peer-to-peer lending platform that connected Bitcoin lenders to borrowers. It uses PayPal to allow people to exchange money for a "secured loan" of Bitcoins. Any registered user may borrow or lend Bitcoin; xCoins.io matches a borrowing request with a lender. A borrower then pays the lender a sum plus interest using PayPal. Once confirmed, Bitcoin is transferred between the wallets of the lender and borrower.
As well as exchanges, you can use a peer-to-peer marketplace to buy Bitcoin with PayPal. Both LocalBitcoins.com and Paxful are peer-to-peer marketplaces that match buyers with sellers directly. These exchanges allow sellers to set their own exchange rates and payment methods. Not all sellers accept PayPal, but you can filter a search of online sellers by payment method to pick one who does.
Why don't more exchanges support PayPal?
As well as the chargeback issue outlined above, there are other disadvantages to using PayPal to buy Bitcoin. 
PayPal fees can considerably increase transaction costs, with many platforms levying as much as 10% of the transaction amount as a fee.
Another thing to consider is that if you're buying through a platform that doesn't accept your local currency, conversion fees could also apply. If converting to U.S./Canadian dollars, for example, PayPal charges a fee of 3.5% above the exchange rate. For other currencies, the fee is 4% over the exchange rate.
24 August 2021 11:30