Paxos Rebrands Token as 'Pax Dollar' Amid Stablecoin Wars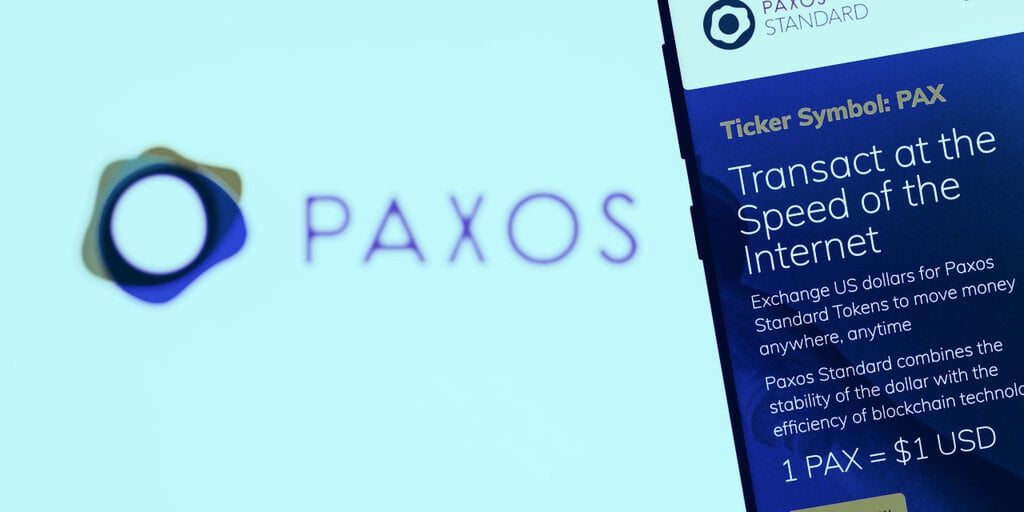 Paxos, a New York-based blockchain infrastructure firm, announced on Tuesday that it has changed the name of its stablecoin from "Paxos Standard' to "Pax Dollar," and that the token's ticker symbol will become USDP.
"The USDP ticker more easily identifies Pax Dollar as a US dollar-backed token … As USDP, everyone will be able to instantly recognize our token as a dollar-backed stablecoin," said Paxos's Head of Strategy, Walter Hessert, in a blog post.
The announcement comes as Paxos is fighting for attention amid a highly competitive stablecoin market that is dominated by Tether, a controversial overseas token popular with traders, and USDC, a U.S.-based stablecoin backed by Coinbase and Circle.
Stablecoins, as their name suggests, are digital tokens that lack the volatility of other cryptocurrencies. They are designed to maintain a 1-to-1 peg to a national currency like the dollar—though the mechanics of how that peg should work has been a topic of contentious debate in recent weeks.
Paxos has long touted what is now the Pax Dollar as the safest of stablecoins because the company has created reserves that consist entirely of U.S. dollars or short term Treasury bills. This is in contrast to the likes of Tether, which stores a large portion of its reserves in commercial paper and other assets.
In theory, Tether could sell those assets for dollars in the event a large number of customers sought to redeem its stablecoins. But in practice, the outcome would likely be very different, especially in a crisis.
As financial experts told Decrypt, Tether would have to sell its assets at a loss in the midst of a crisis—or be unable to unload them at all—which could in turn cause the value of its stablecoin to tumble as customers realized the dollar peg was not holding.
Earlier this month, Paxos's top lawyer claimed in a blog post that Circle's USDC was not a true stablecoin since, like Tether, a portion of it reserves were backed by assets like commercial paper and bonds. Circle initially blew off the criticism but, on Monday, announced that it was changing its policies so that USDC reserves would only consist of dollars and short-term Treasuries.
Backing a token only with dollar and dollar equivalents increases the integrity of a stablecoin. But it also comes at a business cost for the stablecoin issuers since it will earn less interest on the reserves it holds.
Stablecoins have also become a hot topic among regulators and central banks, including the Federal Reserve. In September, the Fed is expected to issue a major report on stablecoins that is likely to have repercussions across the industry.
24 August 2021 12:01