Meme Coin Shiba Inu Hits 5-Month High, Dogecoin Up Nearly 10%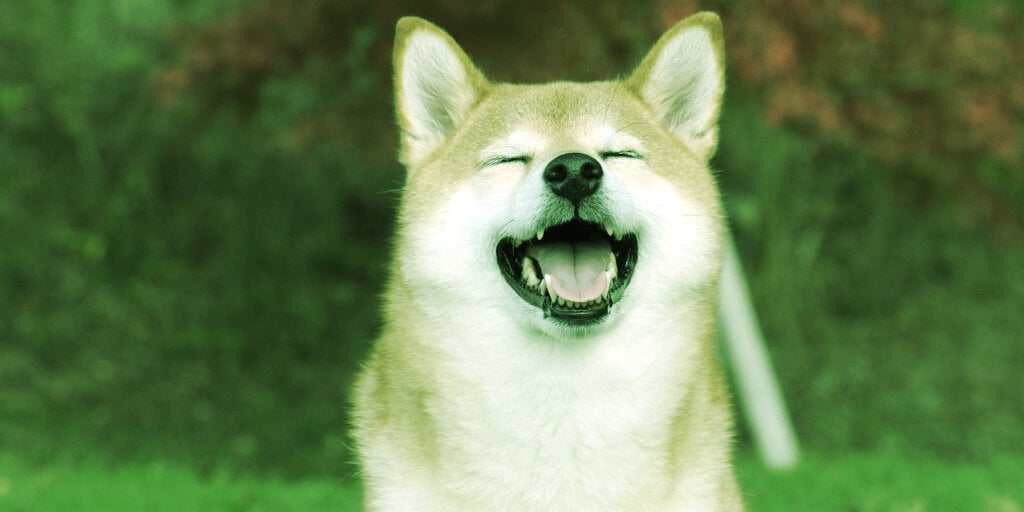 Shiba Inu (SHIB) is the biggest gainer in the cryptocurrency market, with the Dogecoin spin-off recording an impressive 53% increase in price over the last 24 hours, and more than 90% over the last week.
SHIB is an ERC-20 token running on the Ethereum blockchain. Created as an alternative to Dogecoin, the altcoin made waves across the crypto trading community this year, soaring by about 8,000%.
Last month, SHIB got another boost when the meme coin was listed by Coinbase, the largest crypto exchange in the U.S.
According to data from Nomics, SHIB jumped to a five-month high of $0.00001445 late on Monday night before a slight correction to $0.00001344 at press time.
In the past 24 hours, the hashtag #SHIB has also been trending on Twitter, following a tweet on Sunday by Tesla CEO Elon Musk that featured an image of his Shibu Inu dog, Floki.
Floki Frunkpuppy pic.twitter.com/xAr8T0Jfdf

— Elon Musk (@elonmusk) October 4, 2021
It's not the first time that Musk's tweets have preceded a surge in the price of Shiba-themed meme coins; on September 12, the Tesla boss first tweeted an image of his new Shibu Inu pup, saying "Floki has arrived."
At the time, Musk's tweet sent the prices of several Floki-themed coins soaring, with the likes of such as Shiba Floki and Floki Inu jumping by a staggering 1,009% and 108%, respectively.
Oddly, neither of them enjoyed the same boost on this occasion.
Dogecoin hits local high
Meanwhile, Dogecoin, the 10th largest cryptocurrency by market capitalization, is also enjoying a price spike, outperforming such top coins as Bitcoin (BTC), Ethereum (ETH), and Cardano (ADA).
According to Nomics, DOGE is up 9% over the day and 20% over the past week. The asset is currently trading at $0.237, a level last seen in mid-September.
Dogecoin, Musk's other darling, has made some impressive price movements this year, hitting an all-time high of $0.731 in May.
Musk is assisting Dogecoin developers in their plans to make the cryptocurrency usable for everyday purchases, while the boss of American movie theater chain AMC recently polled Twitter users on whether to add Dogecoin to its list of crypto payment options.
5 October 2021 09:48