'Not Just Bitcoin': Bank of America 'Bullish' on Ethereum, DeFi and NFTs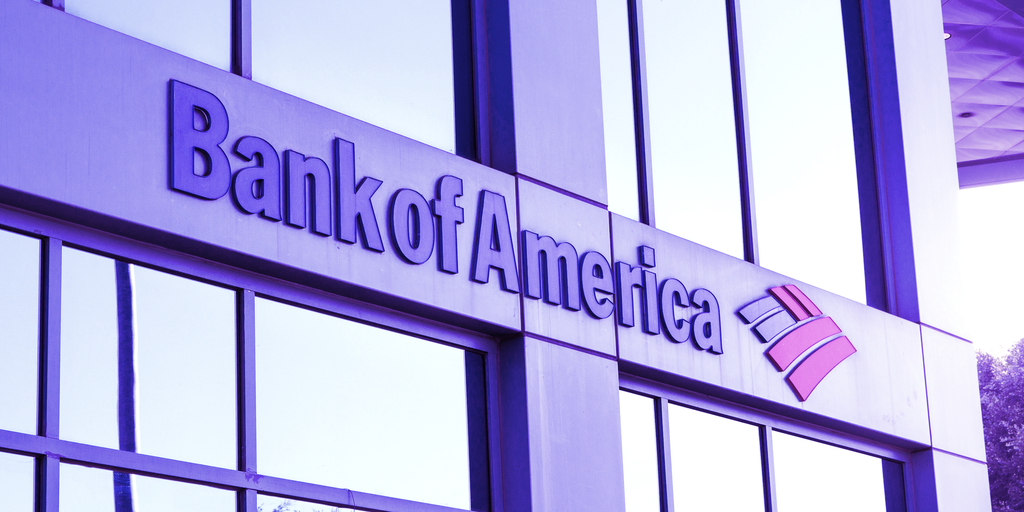 Bank of America, the second-largest bank in the United States has given mixed messages on crypto in the past—including slamming Bitcoin as "slow" and "impractical" in a March research note. But now, the global research division of the banking giant is sounding very positive about the future of the wider crypto industry, even describing itself as "bullish" about the overall ecosystem.
Calling blockchain "the most exciting new market in years," Bank of America Global Research's new Digital Asset Primer is widely enthusiastic about the growing industry, touching on everything from popular cryptocurrencies to decentralized apps, the burgeoning decentralized finance space, stablecoins, and even NFTs.
Right off the bat, the report states that the "digital asset sector [is] too large to ignore," and that there's more to watch beyond Bitcoin. "We believe crypto-based digital assets could form an entirely new asset class," the report reads. "Bitcoin is important with a market value of ~$900 billion, but the digital asset ecosystem is so much more."
Bank of America's report highlights the potential for smart contract platforms like Ethereum to power a potential array of services and functionality. Smart contracts are bits of code that perform set instructions, and they're critical to the use of dapps and DeFi—a catchall term for the sort of peer-to-peer financial services that don't require intermediaries like Bank of America.
"In the near future, you may use blockchain technology to unlock your phone; buy a stock, house or fraction of a Ferrari; receive a dividend; borrow, loan or save money; or even pay for gas or pizza," the report states.
Along the way, Bank of America cites sizable figures—such as more than $17 billion worth of venture capital investments in digital assets and blockchain firms in the first half of 2021 alone, compared to $5.5 billion across all of 2020.
It also cites the recent NFT market resurgence, which saw top marketplace OpenSea log more than $3 billion worth of trading volume each month in August and September. NFTs are tokens that can be used to represent ownership in digital items. According to the banking giant, DeFi and NFTs present "the most innovation" in the crypto space right now, while the firm added that the rise of NFTs was "a surprise for all."
However, Bank of America suggests that sky-high asking prices of NFTs are a point of concern. Furthermore, the firm is apparently perplexed by the popularity of Loot and derivative projects, which are basic lists of text that can be used to form the basis of community-designed game projects.
"Simple images like a black background with a few words of text make us concerned that there are heightened risks in this segment that need to be fully understood before NFTs can achieve true adoption," the company wrote.
Bank of America doesn't gloss over potential roadblocks to the crypto industry's continued growth, however. The report details the looming threat of increased regulation, particularly given recent comments by United States Securities and Exchange Commission (SEC) chair Gary Gensler. It also details potential legal, regulatory, technological, and environmental risks for various sectors of the industry
But the report also attempts to defray criticism of blockchain networks and crypto assets, highlighting past instances in which technological advances were criticized as being "solutions looking for a problem."
Bank of America points out past negative comments made by prominent individuals—including the late Apple CEO Steve Jobs and former Nintendo president Reggie Fils-Aimé—about computers, video streaming, and smartphones, all of which eventually proved to be enormous, thriving industries. The firm believes blockchain technology will similarly provide "disruptive innovation" and ultimately prove critics wrong.
"Despite rapid growth and market values on par with some of the largest public companies in the world, we believe the digital asset ecosystem is only getting started," the report notes. "We are beginning the long journey of covering what we believe to be the next generation of technology—blockchain-based digital assets and applications."
4 October 2021 19:22