Bloot NFTs, X-Rated Spinoff of Loot, Hit $27M in Volume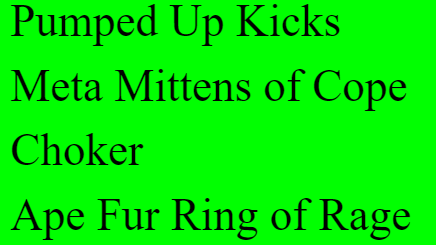 When Dom Hofmann launched Loot, an NFT project of 8,000 randomly generated treasure sheets for a videogame he hadn't yet created, Ethereum developers filled in the gaps by crafting character sheets, artwork and music. 
But the most popular offshoot project in the past 24 hours has nothing to do with the noble romance of Loot's medieval lore. Its most prized asset isn't a magical robe or a well-honed sword—it's a virtual cock ring. 
Bloot, or Based Loot, replaces the medieval treasure of Loot NFTs with memes lifted from crypto speculators on 4chan, Reddit and Crypto Twitter.
Instead of Loot's "Divine Robes of Anger," Bloot's heroes wear "'ERC-20 Poor' Maxi Skirt of Rugging." Instead of "Wool Shoes", Bloot offers "Moon Shoes of Death." And Bloot's warriors don't fight with "Short Swords"; they fight with "Baguettes of Shit." 
In the past day, $5.3 million of Bloot NFTs have changed hands and the floor price has risen to 1.44 ETH ($5,600). Bloot fans have traded $143 million of Based Gold, of BGLD, a fork of AGLD, Loot's cryptocurrency. 
This makes Bloot the fourth-most popular NFT project of the past day, according to data from Nansen. 
While Loot itself is still the most-traded NFT project, with volumes of 3,325 ETH about double Bloot's and its average price of 16 ETH over ten times as much as the average Bloot, none of Loot's derivative projects are taking off as fast as Bloot. 
Bloot's rise, however, has come at a cost: its degenerate sense of humor has alienated prominent Loot investors. Pranksy, a prominent NFT collector, told Decrypt the community is "a very nasty community built up of 4chan forum posters," and represents "the worst side of nfts." 
Will Papper, the creator of Loot's ERC-20 token, AGLD, tweeted that he has received death threats from Bloot's community and only "scammers" would claim that BGLD is affiliated with AGLD.
The most popular Bloot investor, Beanie, has told the Bloot community to be kinder to Papper, but Bloot's Discord chat is certainly more vicious and brash than Loot's more thoughtful, optimistic space.  
By contrast, Loot has a tidy reputation. It has been hailed as the most exciting thing to happen to Ethereum in quite a while, and has been snapped up by rich venture capitalists and wealthy NFT investors.
Loot's writers are busy creating tales of war for Loot holders to play with. But it looks like their first real war could be unprompted and harsh, waged against those who peddle Bloot's "Ball Gag of Fomo" instead. 
6 September 2021 16:06