Former CFTC Chair Giancarlo Exits BlockFi Board as States Crack Down on Firm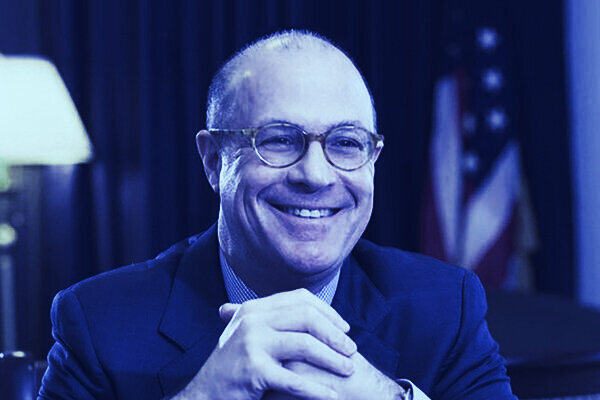 Christopher Giancarlo, who chaired the U.S. Commodity Futures Trading Commission (CFTC) from 2017 and 2019 as part of a five-year term as commissioner, is stepping down from the board of crypto lender BlockFi.
A press release from the company today said that Ellen-Blair Chube, managing director of the William Blair financial services company, will replace him. Giancarlo "will continue to provide strategic counsel to the firm in an advisory role," the release noted. 
"The best is yet to come for BlockFi and I know that as crypto assets take a more prominent role in both retail and institutional investors' strategies, BlockFi will be there to lead the way," Giancarlo said in a statement.
BlockFi has come under fire by state securities regulators of late—four states have ordered it to cease offering its signature BlockFi Interest Accounts to its residents.
Giancarlo, who earned the moniker "Crypto Dad" for his friendly approach to digital assets, joined the BlockFi board in April, when the fast-growing firm was riding high on Bitcoin's bull run. The company, which offers interest on cryptocurrency deposits and provides loans, earned $350 million in Series D funding in March as well as a $3 billion company valuation.
Around the same time, other former regulators and politicos were also jumping on the crypto carousel. U.S. Senator Max Baucus joined crypto exchange Binance as an advisor. Obama and Clinton campaign pros Jim Messina and Lane Kasselman linked up with wallet provider and exchange Blockchain. And Acting Comptroller of the Currency Brian Brooks decamped for a short-lived role as Binance.US CEO.
Like Brooks, who hastily resigned after just three months on the job, Giancarlo is also abruptly leaving without much in the way of explanation. However, the regulatory environment is a possible culprit in both circumstances. Brooks was reportedly planning to create more distance between Binance US and Binance, which has been on shaky footing with global and U.S. regulators, only to have his strategy rebuffed by Binance CEO Changpeng Zhao.
BlockFi, too, is fighting fires. On July 20, New Jersey's attorney general accused it of violating securities laws in connection to its BlockFi Interest Accounts (BIA), which give customers yield on their crypto savings. It ordered the company to stop serving new BIA customers in the state. 
Although New Jersey has since delayed the order, first to September 2 and then today to September 30, other states have piled on. Alabama issued a show-cause notice, meaning it's ready to file a cease and desist unless BlockFi adequately argues that its not selling unregistered securities in the state. Securities are tradable assets used as financial instruments; they must be registered with securities regulators at the federal and state levels.
Further extension of New Jersey Bureau of Securities order. Read more at https://t.co/S9kSaUutLV pic.twitter.com/EzoAdLfyvT

— BlockFi (@BlockFi) September 1, 2021
Texas, Vermont, and Kentucky have also filed cease and desist orders, which have forced BlockFi to stop offering BIAs in each state.
1 September 2021 19:28