Meme Stock AMC Is Now Accepting Crypto—But Not Dogecoin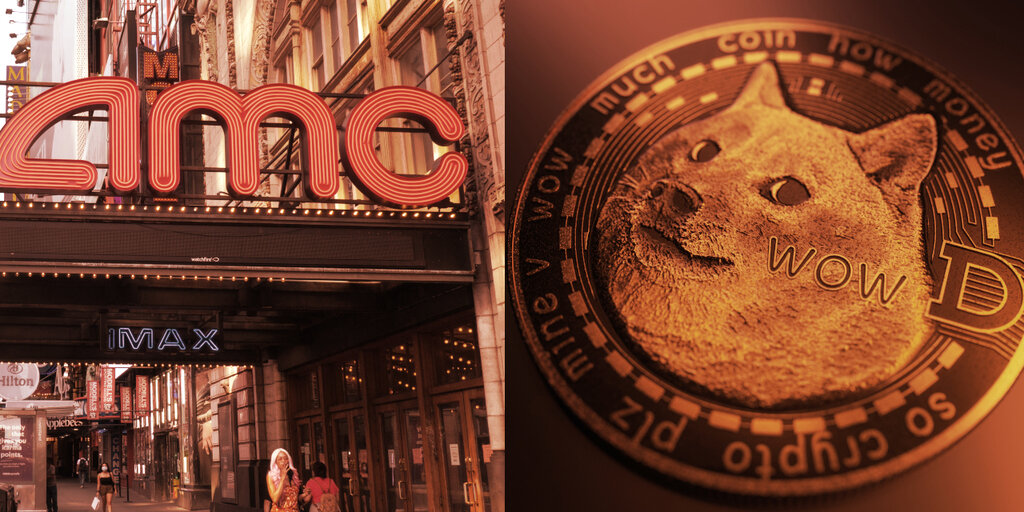 Back in January, movie theater chain AMC's stock price surged as part of this year's "meme stock" trading frenzy, alongside GameStop, Nokia, and others. Soon after, Dogecoin (DOGE) led a rise in value for meme cryptocurrencies, as well, with both trends pointing to demand for investments once seen as undesirable by traditional metrics.
With its stock price now up more than 2,100% since the start of the year, AMC has leaned into its "meme" status and the social media fervor around it. Part of that approach is embracing cryptocurrency, with the firm announcing plans in August to accept Bitcoin payments by the end of the year.
This week, AMC CEO Adam Aron added three more coins to that list: Ethereum, Litecoin, and Bitcoin Cash. Along with Bitcoin, those cryptocurrency payment options are expected to be available by the end of the year for purchasing online tickets and concessions from AMC.
So where's Dogecoin? The leading meme coin seems like a perfect match for one of this year's largest-gaining meme stocks, but AMC has so far been mum on its adoption. Aron—called AMC's "Silverback" by some enthusiastic investors—did not comment on Twitter in response to a flood of questions and demands from DOGE fans.
Cryptocurrency enthusiasts: you likely know @AMCTheatres has announced we will accept Bitcoin for online ticket and concession payments by year-end 2021. I can confirm today that when we do so, we also expect that we similarly will accept Ethereum, Litecoin and Bitcoin Cash. pic.twitter.com/uKcFyQotoJ

— Adam Aron (@CEOAdam) September 16, 2021
Decrypt has reached out to AMC for comment, but did not immediately hear back from the company.
AMC's stock price surged this year as part of a social media campaign led by the Reddit community r/WallStreetBets, which initially targeted GameStop's stock. Mobile trading app Robinhood was one of the biggest beneficiaries of the movement, as the app pulled in millions of new users with the promise of quick and easy stock and crypto trades.
However, amidst the rapid up and down price movement, as well as growing pressure from lawmakers, Robinhood issued trading limits on AMC, GameStop, and others. Later, it did the same for cryptocurrencies, including Dogecoin. Robinhood has also faced outages at times, apparently due to heavy demand for DOGE trading. In June, Robinhood was fined $70 million by FINRA for outages, misleading communications, and other offenses dating back to 2016.
Dogecoin saw its own monumental surge in value this year, rising from about half a penny on January 1 to an all-time high price above $0.73 in May, per data from CoinGecko. Even at a current price above $0.24—a significant dip from the peak—the meme coin is up more than 4,300% this year.
But as that gulf between the May peak and current price might suggest, Dogecoin and other meme coins and tokens (like Shiba Inu and SafeMoon) are especially volatile compared to other leading cryptocurrencies. They appear to surge and sink harder than Bitcoin and Ethereum, and can swing wildly based on social media sentiment—and Elon Musk's tweets.
Despite all of that, Dogecoin has prominent fans. Musk is one of them, given his meme-packed tweets and the ability to pump and prod DOGE's price on a whim, but so is Mark Cuban.
The billionaire investor and owner of the NBA's Dallas Mavericks believes that Dogecoin is the rare cryptocurrency that users actually want to spend, rather than hold for future potential gains. In fact, the Mavericks' merchandise store accepts Dogecoin payments. Cuban has frequently advocated for Dogecoin on Twitter, as well.
Dogecoin was created as a joke, but even 67% off of its May high at present, it still holds a lot of value today. In fact, it has a market cap near $32 billion and sits in the top 10 cryptocurrencies by cap. Perhaps the volatility gives AMC pause, though, or maybe it's just a matter of the firm still figuring out these early steps into crypto payments.
Whatever the case, if AMC seeks to continue this meme dream phase that has pumped its stock price to the moon, then eventual DOGE adoption seems like a reasonable possibility.
The views and opinions expressed by the author are for informational purposes only and do not constitute financial, investment, or other advice.
17 September 2021 20:59