One-Per-Day Nouns NFTs Grant Access to an Exclusive Club for Ethereum Whales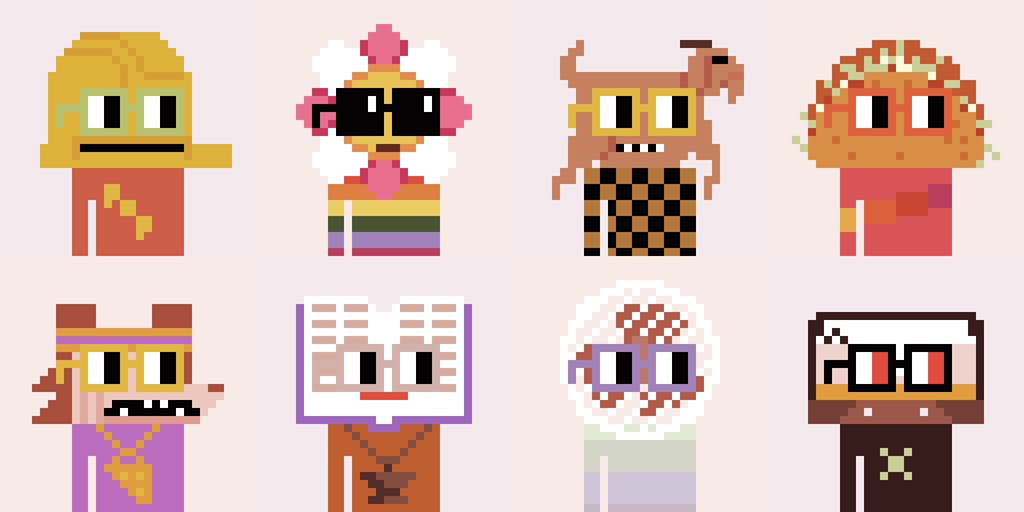 Leading Ethereum NFT profile picture projects like CryptoPunks and Bored Ape Yacht Club span thousands of randomly-generated images—and their rampant success, especially in recent weeks, has generated hundreds of million dollars worth of trading volume.
Nouns, a new NFT project, takes a radically different kind of approach.
Instead of dropping a mass of NFT collectibles onto the market like those aforementioned projects, Nouns mints a single NFT each day in the form of a colorful, pixel character, and then puts it up for auction to the highest bidder.
An NFT acts like a deed of ownership to a digital item, whether it's an image, a video, or nearly anything else. In this case, it's a pixel character that is randomly generated on-chain on Ethereum. And the ETH whales are coming to snatch 'em up, based on the amount of money generated in less than two weeks so far.
All told, 14 different Noun NFTs have been minted and 12 of those have been auctioned to the highest bidder, generating just over 1,642 ETH, or more than $5.3 million at the current exchange rate. The odd Nouns out were awarded to the project's founders: every 10th NFT currently goes to the creators, rather than having them take a share of the ETH generated by sales.
*Bleep Bloop Blop*

An auction has started for Noun #11
Learn more at https://t.co/EkQXiDABVM pic.twitter.com/mtbTXPCXVR

— NounsBot (@nounsbot_) August 17, 2021
What is arguably most interesting about Nouns is where all of that money actually goes—and what it could potentially be used for. It's funneled into the treasury of the Nouns DAO, a decentralized autonomous organization (DAO) created to govern the project going forward. And who governs the DAO and controls all of that money? It's the NFT owners themselves.
Each Noun NFT that someone owns is worth a single vote in the gradually-expanding DAO. Think of it as a very expensive and exclusive club, but unlike the Bored Ape Yacht Club that actively positions itself as a club worth paying to join, there's a lot of potential upside for Nouns members. They can propose and vote on plans that could potentially benefit everyone involved, tapping into all of that ETH held in the treasury.
The Nouns founders, or "Nounders," reserve the right to veto any "obviously harmful governance proposal" during what is described as a "governance slow start" while the NFT supply builds up. However, they plan to "provably revoke" the veto privilege as DAO membership grows.
The latest Noun owner, who goes by devloper and won Noun 13 today at a price just above 128 ETH ($418,000), told Decrypt that they believe the mix of decentralized finance and NFTs is "the most interesting thing happening in the space," and see potential in the DAO growing an "epic media brand." Mostly, however, they're just having a good time.
"It's pretty straightforward for me," said the NFT collector. "Bidding on Nouns has just been the most fun I've had in 2021. I'm excited to help grow that fun so everyone can enjoy it."
Noun origins
Nounder vapeape told Decrypt today that the project came together following a Twitter prompt by fellow founder Punk 4156, a notable NFT collector who identifies as the CryptoPunk that he owns. Many people within the NFT community reached out to 4156 to discuss the possibilities, and the following day, he shared a series of tweets that outlined much of the framework that ultimately became Nouns. "After pronouns, there were Nouns," he wrote.
According to vapeape, the group of 10 Nounders—which includes Vine co-founder Dom Hofmann—began collaborating via a shared Discord, mostly through chat. "Most of us had never interacted with each other except in passing prior to that," said vapeape. "Once in Discord, we used 4156's outline as a north star and started sprinting in our respective domains."
.@nounsdao owners (present and future), you listening? we have a week-old org that's adding 250k in funding and one big per day (indefinitely), incredible 'IP' and a clear path to global crypto adoption. this is our opportunity… https://t.co/rEwKGq99gd

— 4156 (@punk4156) August 17, 2021
Punk 4156 appeared on the Digitally Rare podcast this week to discuss the future aims of Nouns, albeit with his voice disguised to maintain anonymity. He suggested that Nouns is essentially building up an intellectual property, randomized character by character, and that DAO members will have the ability to shape the way the project expands and evolves over time.
In fact, Punk 4156 put out a call on Twitter this week for developers who want to build atop the Nouns protocol. Less than two weeks after the launch, the Nounders are already looking for ways to enhance this project using their already mighty war chest of ETH. In a post on Thursday, he detailed his vision for a prospective Nouns ecosystem.
"I think we have a historic opportunity—to be bold, take risks, and ultimately attract the builders who can take the raw ingredients of the Nouns protocol, and turn them into applications that are ready to be consumed by the world," he wrote. "If we can do this, the DAO will attract more capital and higher quality participants, and the virtuous cycle will be complete."
Nouns picked an ideal time to launch given the recent rise in demand for popular NFT projects, including soaring prices for CryptoPunks and other similar creations, as well as surging trading volume. NFT marketplace OpenSea reports having more than $1 billion in transaction volume so far in August alone.
It's yet unclear if Nouns' early momentum will continue on, or how the Nouns DAO will shape and expand the project ahead. But even if you can't afford one of these very expensive, bright pixel NFTs, you can at least create your own Noun in the official character creation playground. You just can't mint it, sell it, or vote with it.
20 August 2021 21:43