Play Games, Win Bitcoin: ZEBEDEE Raises $11.5M for Crypto Rewards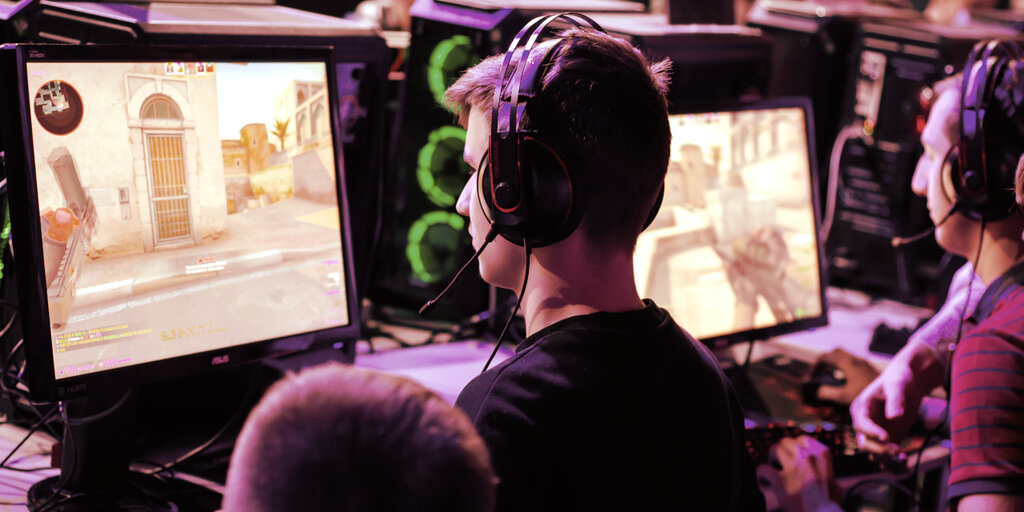 Bitcoin-centric startup ZEBEDEE, which currently pays out BTC rewards to Counter-Strike: Global Offensive players on specialized servers, announced yesterday that it has raised $11.5 million in funding to expand its Bitcoin gaming initiatives.
The Series A round funding will be used to enhance its software and infrastructure to power in-game micropayments via Bitcoin's Lightning Network. Lightning is a layer-2 solution that works on top of Bitcoin's own network, enabling very small payments without exorbitant transaction fees. According to ZEBEDEE, its platform supports payments as low as $0.0005 worth of Bitcoin.
"The raised funds will be used to power all sides of ZEBEDEE for the next 24 months, during which time we plan to raise our next round," ZEBEDEE co-founder and CEO Simon Cowell told Decrypt via email. "Besides continuing our product development, the focus will be on business development with game developers and ensuring we've set up world-class compliance practices."
ZEBEDEE will also ramp up its marketing push to reach more players, as well as its outreach to game developers to expand use of the platform. The startup's Infuse technology lets developers build Bitcoin-centric rewards and wagering elements into games.
Back in February, ZEBEDEE announced that it had implemented Infuse into Valve's popular PC first-person shooter, Counter-Strike: Global Offensive (CS:GO). That allowed players to pay a very small amount of Bitcoin as an entry fee, as little as 100 satoshis (1 satoshi = 1/100,000,000 BTC), or about $0.05 worth, when playing on one of the servers equipped with Infuse technology.
When you're good the #sats just stack themselves Join our Discord and start playing #CSGO for Bitcoin: https://t.co/hO1S2RSvMY pic.twitter.com/Ji4UUJsFFr

— ZEBEDEE (@zebedeeio) September 5, 2021
At the end of the game, players earn a BTC reward based on their performance and potentially come out ahead. ZEBEDEE also revealed plans at the time to launch CS:GO servers that do not require an entry fee, in partnership with potential sponsors. In June, ZEBEDEE's Bitcoin Gaming Wallet added an integration with cryptocurrency exchange Bitstamp to enable easier withdrawals and token swaps for BTC won while playing games.
ZEBEDEE also hosted a MintGox Esports Arena at the Bitcoin 2021 conference in June, partnering with Bitstamp and market research firm L'Atelier BNP Paribas to provide a total of 1 BTC (worth about $35,500 then) in prizes for competing in video games at the event. MintGox is a monthly Bitcoin-centric streaming game competition that started in 2020.
According to Cowell, ZEBEDEE's platform saw a 287% rise in transaction volume between May and August, with a 140% increase over the last month alone. Venture capital firm Lakestar led the Series A round, with participation from Initial Capital, TVP, New Form Capital, and others. The round's angel investors include game industry veterans such as CCP founder and CEO Hilmar Veigar Pétursson and Small Giant CEO and co-founder Timo Soininen.
Crypto gaming projects and initiatives have surged in activity in recent months. Ethereum-based "play-to-earn" game Axie Infinity generated $1.6 billion worth of NFT trading volume this summer as its AXS governance token skyrocketed in value. Meanwhile, upcoming games like The Sandbox and Guild of Guardians have seen big-ticket NFT sales before the games are even live. Most of the crypto gaming scene revolves around Ethereum at present.
ZEBEDEE's focus is different, however. Cowell told Decrypt that likening its approach to Ethereum's NFT-based games was like "comparing apples to oranges." While Ethereum games are generating vast sums of transaction volume based on interactive NFT collectible sales, ZEBEDEE is using Bitcoin and the Lightning Network to introduce payment options into games—such as tiny transactions for rewards, wagers, and purchases.
"We are using Bitcoin as a payment rail that brings real economic activity into virtual worlds," he said. "Just like microtransactions unlocked billions in value by basically launching the free-to-play games market, we are now introducing nanotransactions to unlock billions more and pave the way for the transition from free-to-play to play-to-earn."
Said Cowell: "The growth we are seeing is not a result of hyped-up valuations or speculation on assets."
Meanwhile, Bitcoin yesterday lost more than 13% of its value in a sudden crash, dropping from above $52,000 to around $45,000 within hours.
The views and opinions expressed by the author are for informational purposes only and do not constitute financial, investment, or other advice.
8 September 2021 15:48