Solana Flips XRP as Rising Coin Outpaces Bitcoin, Ethereum Crash Recovery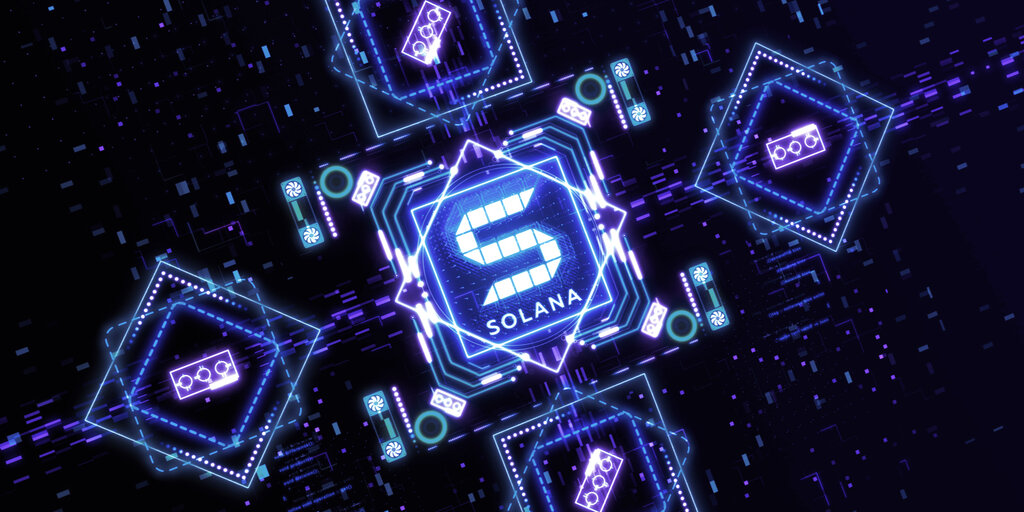 After a morning crash that erased 13% from the total cryptocurrency market cap and muted most of the gains seen by top coins over the last week, the market is gradually recovering ground—although it's been a bit up and down in recent hours. No top coin has bounced back faster than Solana (SOL), which has claimed a new spot on the Top 10.
Solana is now up 12% over the last 24 hours to a current price of $177 per coin, according to data from CoinGecko. It's the only non-stablecoin in the top 10 cryptocurrencies by market cap to be in the green over the last day, as Bitcoin, Ethereum, Cardano, and other coins saw sizable declines this morning.
Solana's price dropped about 17% within an hour this morning, but it has regained much of that value since.
Now, Solana has leapfrogged Ripple's XRP to become the sixth-largest cryptocurrency by total market cap, at a current cap of $51.3 billion compared to XRP's $51.1 billion. Solana only flipped Dogecoin for the #7 slot last week, and wasn't even in the top 10 until last month. XRP is currently down more than 20% over the last 24 hours at a current price of $1.10.
Solana has steadily surged in value over the last month, up 351% over the past 30 days according to CoinGecko. Along the way, SOL has repeatedly set new all-time high levels. Prior to August, SOL had peaked at $56.20 in May, per data from CoinGecko. SOL smashed through that level on August 16 and has more than tripled in price in the three weeks since.
Founded in 2018, Solana is seen as a key rival to Ethereum, which is currently the leading blockchain platform for smart contract-powered applications. Smart contracts are bits of code that perform set instructions, and they serve as the heart of a wide array of decentralized applications, including DeFi protocols (peer-to-peer lending and trading) and even NFT collectibles like images and video files.
Solana has seen an uptick in both DeFi and NFT usage of late, including the launch of popular NFT collections like Degenerate Ape Academy and Aurory. The price of SOL pumped before the launch of each of those sets, as collectors seemingly accumulated the coin in anticipation of securing one of the rare randomized profile pictures.
Today, another notable Solana project—upcoming crypto game Star Atlas—launched NFTs for purchase. According to its Twitter account, the game's marketplace is "experiencing capacity issues due to extreme demand" as users vie for tokenized digital spaceships designed for the eventual future release of a playable game.
The value of SOL locked in DeFi protocols has also increased significantly in recent weeks. Currently, there's about $5.9 billion worth of assets locked into DeFi platforms on Solana, per data from DeFi Llama, up from $1.49 billion a month ago on August 7. However, the actual amount of SOL locked in DeFi protocols has actually decreased 7% during that time, although the value of each coin has dramatically risen.
Ultimately, however, Solana's rising activity still pales in comparison to that of Ethereum. The vast majority of the recently-surging NFT ecosystem is currently based in Ethereum, while DeFi protocols on the network currently hold $121 billion worth of assets.
The views and opinions expressed by the author are for informational purposes only and do not constitute financial, investment, or other advice.
7 September 2021 19:37