These Are the NBA, NFL Stars In Bored Apes, CryptoPunks and Other Ethereum NFTs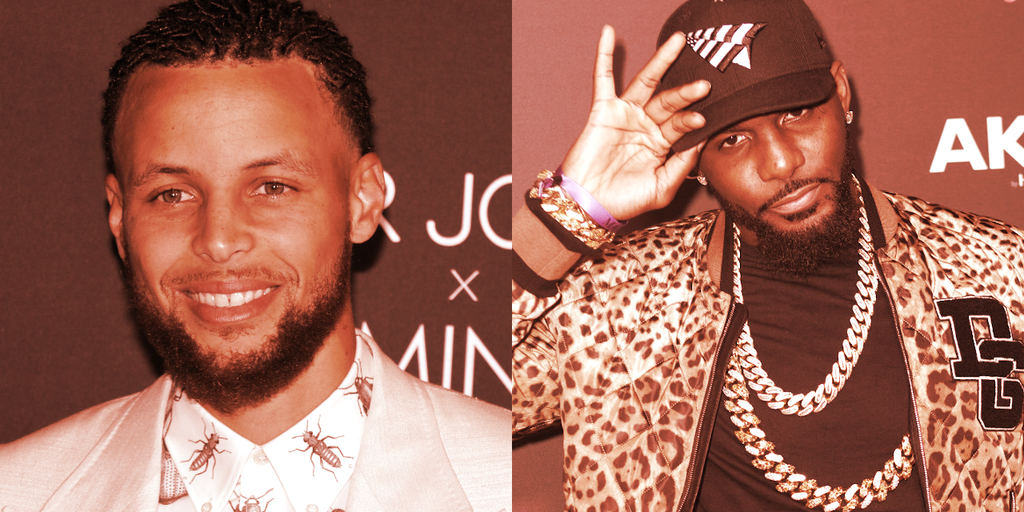 You might know Stephen Curry from his three NBA championship wins with the Golden State Warriors, or maybe you've seen him on ABC's Holey Moley or in Subway commercials. But if you follow him on Twitter right now, you won't see his face next to his handle: you'll see an image from the Bored Ape Yacht Club NFT collection.
Curry is one of the latest prominent athletes to "ape into" (or purchase a piece from) the collection, buying one of the Ethereum-based NFTs for $180,000 worth of ETH on Saturday.
The Bored Ape Yacht Club bills itself as a membership club, and it's one that has generated a heap of cash: some $397 million worth of trading volume since launching at the end of April. The cheapest one you can buy right now on NFT marketplace OpenSea costs more than $157,000 in ETH. Ownership also comes with privileges, such as additional free NFTs from the subsequent Bored Ape Kennel Club and Mutant Ape Yacht Club collections.
Stephen Curry isn't alone as a prominent athlete in the Bored Ape Yacht Club, and some of his contemporaries in the NBA and NFL have also invested in other popular NFT collections, such as CryptoPunks, World of Women, and Koala Intelligence Agency. An NFT acts like a receipt for a digital item, and in this case, notable athletes are buying images from an array of popular artwork collections.
NBA player Josh Hart of the New Orleans Pelicans is one of the most avid NFT collectors in the league, or so his Twitter feed suggests. He sports a CryptoPunks avatar, which is the most valuable NFT profile picture set around (with over $1 billion in lifetime trading volume).
.@StephenCurry30 just casually chillin in the bored ape discord pic.twitter.com/sREO3RIq2N

— Storm (@CryptoStorm__) August 28, 2021
Last month, Hart mentioned the possibility of fractionalizing one of his Bored Ape NFTs, which means allowing many investors to own a share of it and potentially benefit from its rising value. On Sunday, he tweeted an image from the Mutant Ape Yacht Club, a new collection that rolled out over the weekend.
Fellow NBA player Tyrese Haliburton of the Sacramento Kings has shared images of the NFTs he owns in the Bored Ape Yacht Club and Koala Intelligence Agency. Charlotte Hornets star LaMelo Ball is reportedly a Bored Ape owner, too, although he doesn't use it as his Twitter profile picture. Meanwhile, the Phoenix Suns' Javale McGee tweeted over the weekend that he purchased a World of Women NFT as his first crypto collectible, after asking for recommendations.
Me here! https://t.co/gSqL3kBsuT

— Tyrese Haliburton (@TyHaliburton22) June 6, 2021
Earlier this year, many NBA players revealed themselves as fans of Dapper Labs' NBA Top Shot NFT collectibles platform, which exploded in popularity in February and March and has amassed more than $703 million in volume to date (per CryptoSlam). Players like Tyler Herro, Damion Lee, and Terry Rozier are among the notable collectors, while McGee and fellow players Andre Iguodala and Spencer Dinwiddie are investors in Dapper.
NFL stars past and present have gravitated towards the Bored Ape Yacht Club, meanwhile. Free agent wide receiver Dez Bryant—who is working on his own athlete NFT initiative called Personal Corner—is a notable Bored Ape backer who has tweeted about and collects other projects, too. Over the last day alone, Bryant has added a pair of Lazy Lions, along with a couple of Avastars NFTs and a Creature World profile picture.
I APED IN!!! #BAYC #NewProfilePic pic.twitter.com/FhuT2h6juT

— Von Miller (@VonMiller) August 10, 2021
A number of players from the Denver Broncos, past and present, have also joined the Bored Apes. Linebacker Von Miller announced his own purchase of his NFT in early August, following similar moves from placekicker Brandon McManus and retired Broncos players Tyler Polumbus and Brandon Stokley. In fact, Polumbus tweeted that he owned three Bored Apes NFTs before selling one to Stokley. Polumbus also said that he owns Micah Johnson's Aku NFT collection, and has tweeted about Alphabetty NFTs.
While the trend of prominent athletes collecting NFTs from popular collections is new, it follows the well-established trend of athletes releasing their own NFTs. Along with NBA Top Shot and Major League Baseball NFTs from both Candy Digital and Topps, there's also NFL quarterback Tom Brady's Autograph.io startup and many others. Additionally, athletes such as NFL star Rob Gronkowski and tennis pro Naomi Osaka have released their own NFT collections.
Now, however, athletes aren't just dropping their own NFTs: they're buying what's hot and meeting the market where it is right now—and joining the club of collectors.
The views and opinions expressed by the author are for informational purposes only and do not constitute financial, investment, or other advice.
1 September 2021 23:05